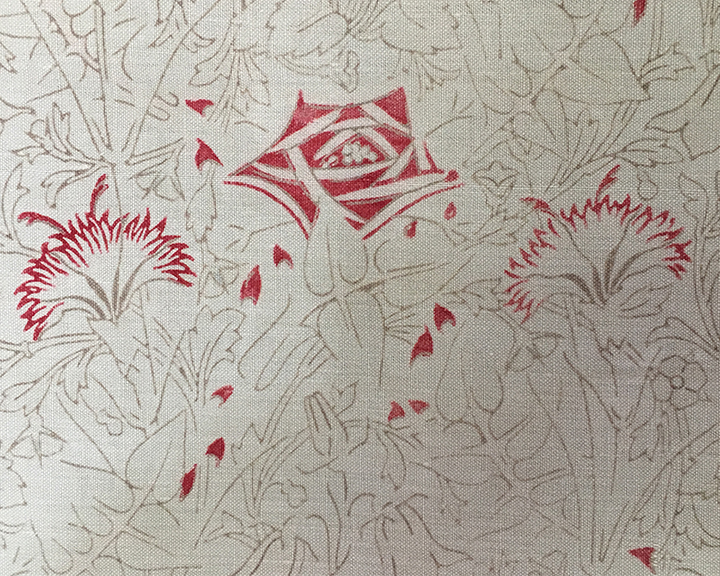 Indian Pink
After 1918
This design was probably designed by Duncan Dearle. It would have been block printed at Merton Abbey. As you will see this is an unfinished piece, so must be rather rare. I have not sold a piece by John Henry Dearle's son, Duncan before.
Duncan William Dearle (1893 - 1954). Duncan suceeded his father as chief designer and artistic directior at Morris & Co when John Henry died in 1932. Duncan provided textile and stained glass designs, as well as running the day to day production in the various workshops. He took his responsibilities seriously but his great love was music, so his heart was never in the business. There are only three known designs by Duncan.
The registration mark was used after the shop moved to George Street, Hanover Square in October 1917.
Cataloguing
The natural cotton ground hand block printed with angular roses, pinks and harebells, only the first two printed in shaded pinks, the selvedge printed with Reg Morris & Company
Length 6ft; 1.9 m
Width 3ft; 92 cm
Condition
This very long length has some fading and is holey. You would buy it for the design or for the fact that Duncan Dearle's designed it. I had a similr piece a short time ago.
Comments
* William Morris Textiles by Linda Parry p 282 no 146.
Price: £120 | $170 | €140