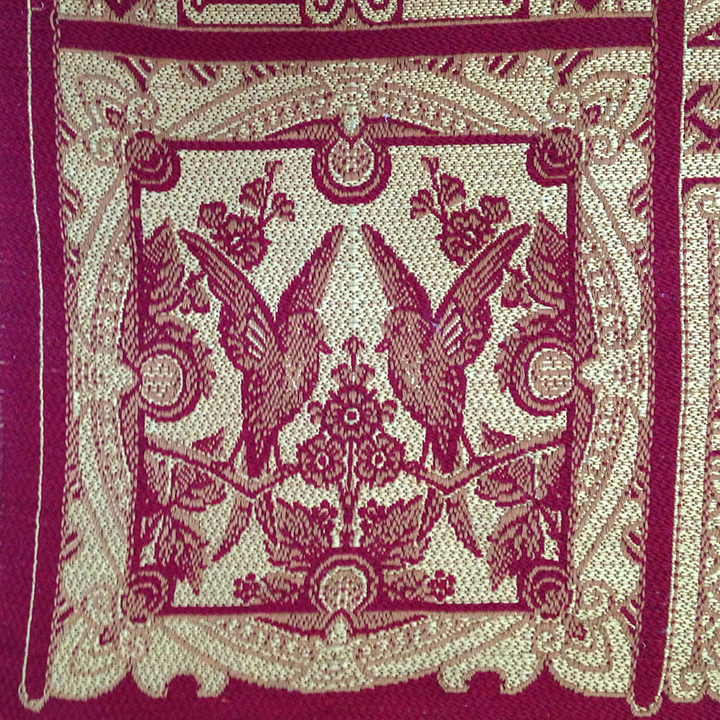 Aesthetic Portiere
1870-80s
Fantastic piece both visually and historically and very much in the style of Bruce Talbert.
Cataloguing
or hanging, possibly designed by Bruce Talbert, woven in silk and wool with a maroon ground woven with a deep lower border 38 in; 97 cm containing a central Japanese inspired flower design with prunus and other flowers on a cross diagonal design of branches, in shades of maroon, bright coral, soft pink, bright turquoise and blues, cream and yellow on a gold coloured fretwork ground, between an upper and lower border of fan shapes, the lower and borders that run the length of the hanging worked in gold silks on the maroon ground with Japanese inspired motifs, the lower left and right hand corners with a pair of cranes flanking flowers, complimentary silk twisted rope edging, 10 ft x 4 ft 1 in; 307 x 126cm wide
Condition
Excellent. In remarkable condition. Looks like new! Just very slight fading down the outside edge of the left hand side, for 36 in. just on the maroon edge, as you look at the piece, The very bottom has been turned under at some stage and there are a few minute moth holes (photos available of damage).
Comments


For similar see: Nineteenth Century Design by Charlotte Gere and Michael Whiteway 1993 pl 103 p 94


Arts & Crafts Textiles in Britain The Fine Art Society exhibition catalogue 2003 where they had one for sale.


Textiles of the Arts & Crafts Movement by Linda Parry - V & A 1988.


Bruce James Talbert 1838-1881 published many designs with many designers copying his style.
Born in Dundee, Scotland, the son of James Talbert, merchant, and was educated at Dundee High School. He was articled to ___Millar, a Dundee woodcarver and commenced business as a woodcarver on his own account. This did not prove successful commercially and after two years he entered the office of the Dundee architect Charles Edward for whom he designed the heraldic motifs of the Kinnaird Hall, built 1857-58. In 1857 Talbert moved to Glasgow to work for William Nairne Tait, but by 1860 he was in the office of Campbell Douglas & Stevenson. Whilst employed at the later he won two prizes, an architectural design medal in 1860 and the Edinburgh Architectural Association medal. Talbert first saw Japanese design at the International Exhibition of 1862 in London. It strongly influenced his work. Japanese designers were expert at producing geometric surface patterns in many variations and in many different materials. Metalwork and silk textiles were the easiest materials for European designers and manufacturers to produce in this new style.( V & A) Moving to Manchester In 1862 Talbert designed furniture for the cabinet makers Doveston Bird & Hull, moving in the October to Francis Skidmore's Art Manufactures in Coventry, at a salary of four guineas a week. There he drew up the working drawings for George Gilbert Scott's Hereford Cathedral screen and the Albert Memorial. He remained there until 1866 when he moved to London to work for Holland & Sons, furniture makers who were then preparing for the Paris Exhibition of 1867. His designs won a silver medal and commissions from Cox & Son, ecclesiastical metalworkers, and the furniture makers Gillows. In the same year, he published 'Gothic Forms applied to Furniture, Metalwork and Decoration for Domestic Purposes', the first plates of which appeared in July. But over-commitment and the London atmosphere had affected his health and he returned to Dundee where he set up 'a tasteful studio', address not traced, completed 'Gothic Forms' and provided designs for Gillows and James Lamb of Manchester. Returning to London in 1869 he lived first at 10 Nottingham Place and then at 18 Bury Street (1871) and 11 Argyle Street (1872). He continued to work for Gillows, Cox & Son and the Coalbrookdale Iron Company, and began exhibiting designs for interiors at the Royal Academy. His designs were also published in Cox & Sons 'Illustrated catalogue of gothic and other artistic domestic furniture, fittings, decorations upholstery and metalwork... by architects and others..also from designs prepared by the Society of Decorative Art' issued in April 1872. In 1873 he took premises at 98 Gower Street jointly with the stained glass artist George Cook, close to the premises of Cottier & Co in which his former colleague at Campbell Douglas's, John McKean Brydon, was a partner. The Gower Street business prospered and in June 1874 he married Amy Adkins, the daughter of the well-off Birmingham maltster, Henry Adkins. They took a house at 5 Euston Square which then became both house and studio. In 1876 Talbert brought out his second book 'Examples of Ancient and Modern Furniture, Metal Work, Tapestries, Decoration etc' and he soon had more work than he could carry out, his clients now also including Warners; Jackson & Graham; Marsh Jones & Cribb; Collinson & Lock; Vaughan & Sons; Caleb Trapnell of Bristol; Steel & Garland of Sheffield; William Frain of Dundee; Templetons Carpets of Glasgow; and many others, possibly including Walter MacFarlane & Co of Saracen Iron Works, Glasgow. The crowning achievement of his career was winning the Grand Prix at the Paris Exhibition of 1878 with the Juno cabinet made by Jackson & Graham. Chronic overwork eventually resulted in alcoholism. He died on 28 January 1881 and was buried at Kensal Green. His wife Amy closed the studio and returned to Warwickshire.
Price: on request
Ref N°: 6067