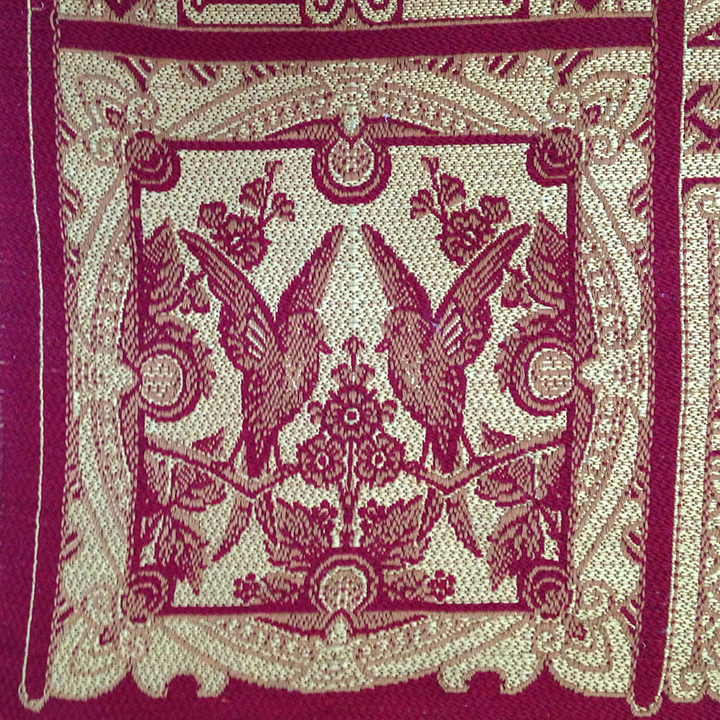 Aesthetic Portiere
late 1870s
Fantastic piece both visually and historically probably woven by J W & C Ward of Halifax, Yorkshire. I have not yet discovered the designer, although there is Bruce Talbert's influence in the design.
Cataloguing
Aesthetic portiere or hanging, woven in silk and wool with a maroon ground, the deep lower border 38 in; 97 cm containing a central Japanese inspired flower design with prunus and other flowers on a cross diagonal design of branches, in shades of maroon, bright coral, soft pink, bright turquoise and blues, cream and yellow on a gold coloured fretwork ground, between an upper and lower border of fan shapes, the lower and side borders run the length of the hanging, also worked in gold silks on the maroon ground with Japanese inspired motifs, the lower left and right hand corners with a pair of cranes flanking flowers, complimentary silk twisted rope edging, 10 ft x 4 ft 1 in; 307 x 126cm wide
Condition
Very good condtion. In remarkable condition. Just very slight fading down the outside edge of the left hand side, for 36 in. just on the maroon edge, as you look at the piece, The very bottom has been turned under at some stage and there are a few minute moth holes (photos available of damage).
Comments


For similar see: Nineteenth Century Design by Charlotte Gere and Michael Whiteway 1993 pl 103 p 94


Arts & Crafts Textiles in Britain The Fine Art Society exhibition catalogue 2003 where they had one for sale.


Textiles of the Arts & Crafts Movement by Linda Parry - V & A 1988.


Price: on request
Ref N°: 6067