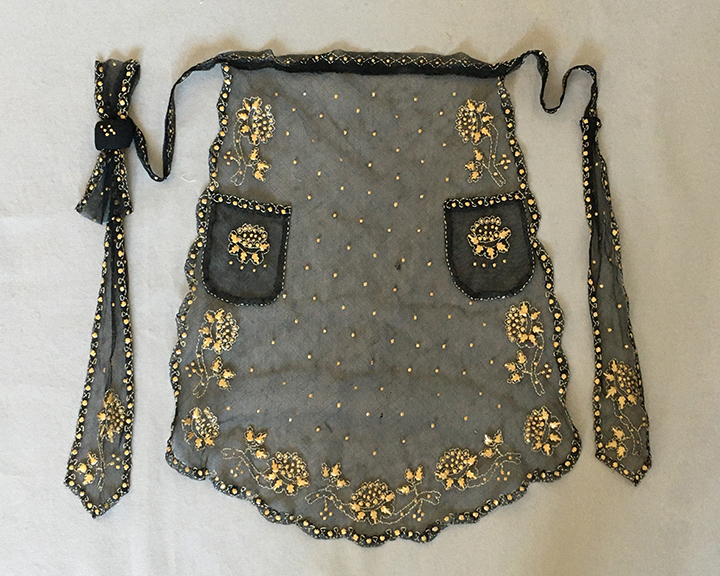 Straw work Apron
c 1860
The straw work motifs were almost certainly manufactured by Isler of Wohlen, Switzerland.
Cataloguing
for decorative wear, probably made in France or the Iberian peninsula, the black machine net ground applied with straw work flowers and fruits, embroidered with ivory silk outlines, two patch pockets with similar work, the waistband flaring out to lapet shape and with a bow midway to one tie, scalloped edges, 20 in d ; 50 cm.
Condition
Excellent amazingly. Clearly much treasured and wondered at.
Comments
I have had a similar shaped straw work apron before but with different design. This Swiss factory dominated the European market for straw work and supplied the Paris fashion houses. Straw thread was woven on handloom, probably silk warps in strips of varying widths and embroidered with straw splints (strips of straw) in geometric and floral patterns. Straw work was in fashion for about a hundred years, from the second half of the 18th c. to about the 1870's.


Johnston, Lucy Nineteenth Century Fashion in Detail p 206. Here it states all straw motifs were probably made in Switzerland. France was the leading manufacturer of straw-decorated objects until the mid-19th c. See a veil of the 180s 772-1972. p 206.


Main, Veronica Swiss Straw Work - Techniques of a Fashion Industry


Many years ago I had a 1905 bodice.
Price: £325 | $440 | €370
Ref N°: 6750