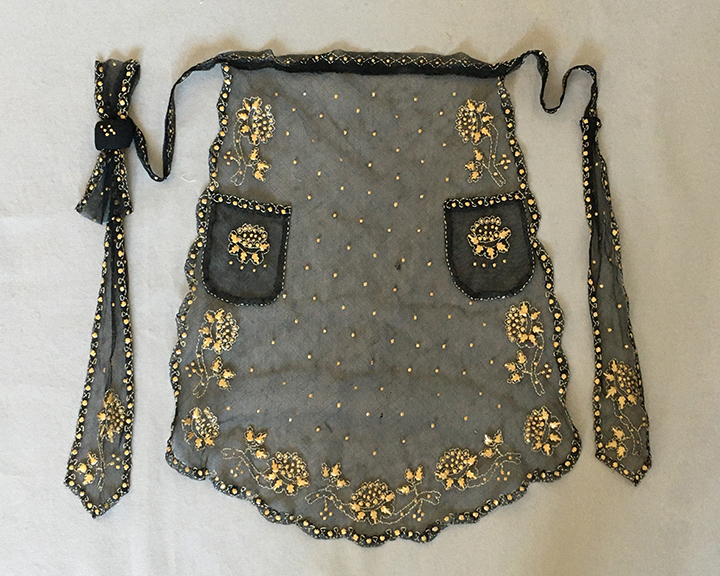 Swiss Straw work Apron
c 1860
The straw work motifs were almost certainly manufactured by Isler of Wohlen, Switzerland. The trade in making straw motifs began in 1800 but it was not until 1835 that it started to become really popular continuing until 1880s. Women, older people and children would all make these small motifs. The three main manufacturers were Isler, Bruggisser and Walser who were supplying the Paris fashion houses and New York. When the hat went out of fashion, the industry went into decline.
Cataloguing
for decorative wear, probably made up in France or the Iberian peninsula, the black machine net ground applied with straw work flowers and fruits, embroidered with ivory silk outlines, two patch pockets with similar work, the waistband flaring out to lapet shape and with a bow midway to one tie, scalloped edges, 20 in d ; 50 cm.
Condition
Excellent amazingly. Clearly much treasured and wondered at.
Comments
I have had a similar shaped straw work apron before but with different design and a late 19th century bodice (part of a dress).


Johnston, Lucy Nineteenth Century Fashion in Detail p 206. Here it states all straw motifs were probably made in Switzerland. France was the leading manufacturer of straw-decorated objects until the mid-19th c. See a veil of the 180s 772-1972. p 206.


Main, Veronica Swiss Straw Work - Techniques of a Fashion Industry


Price: £450 | $570 | €490
Ref N°: 6750