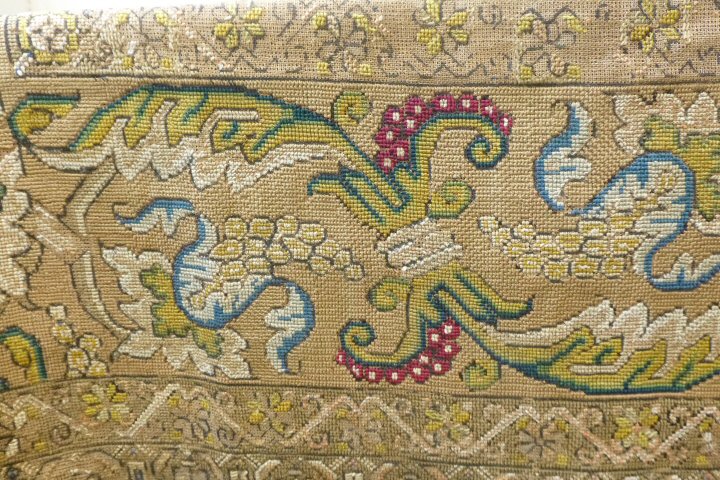 Rare Table Carpet
c 1600
RARE, RARE, RARE to find a Sturart period (James I) embroidery. This could also be late Elizabethan. This would be great for a house where you want to recreate an early period.
Cataloguing
the central field with a repeating pattern of stylised flowers and leaves surrounded by a guard stripe, the border with Renaissance style pattern, a further guard stripe with repeat flower meander, the outer border scalloped and with flowers, all embroidered in red, yellow, blue and green silks, cross stitched on a canvas ground, 6 ft x 7 ft 10 in.; 1.73 x 2.4 m, yellow silk fringe to two ends, original linen backing.
Condition
Considering its age it is fairly remarkable, table carpets being very rare. The centre field has some damage on the fold line at centre and there is quite a large hole to one side. 7 x 2 in; 18 x 5 cm which my conservator has supported. The wide border is in good condition. Throughout the inked ground is visible where the silks have come away or perhaps was unfinished. I have lots of photos of condition and detail so do ask for them.
Comments
The Arabic style patterns were probably introduced to Europe through trade both in the Mediterranean and with Islamic Spain. These type of designs can be seen on band samplers of the 17th century. The border is strongly influenced by Italian 16th century pattern books. Many pattern book designs were suitable for working on counted threads
My thanks to Clare Browne, Textiles Curator V & A for pointing out their table carpet with similar border. http://collections.vam.ac.uk/item/O316490/table-cover/
Synge, Lanto The Royal School of Needlework's Book of Needlework and Embroidery p 31 ref 25 for a hankerchief of c. 1600 with a very similar border.
Johnstone, Pauline Three Hundred Years of Embroidery 1600-1900 p 37 no 3 for a similar design used for a cushion border.
Price: on request
Ref N°: 6524