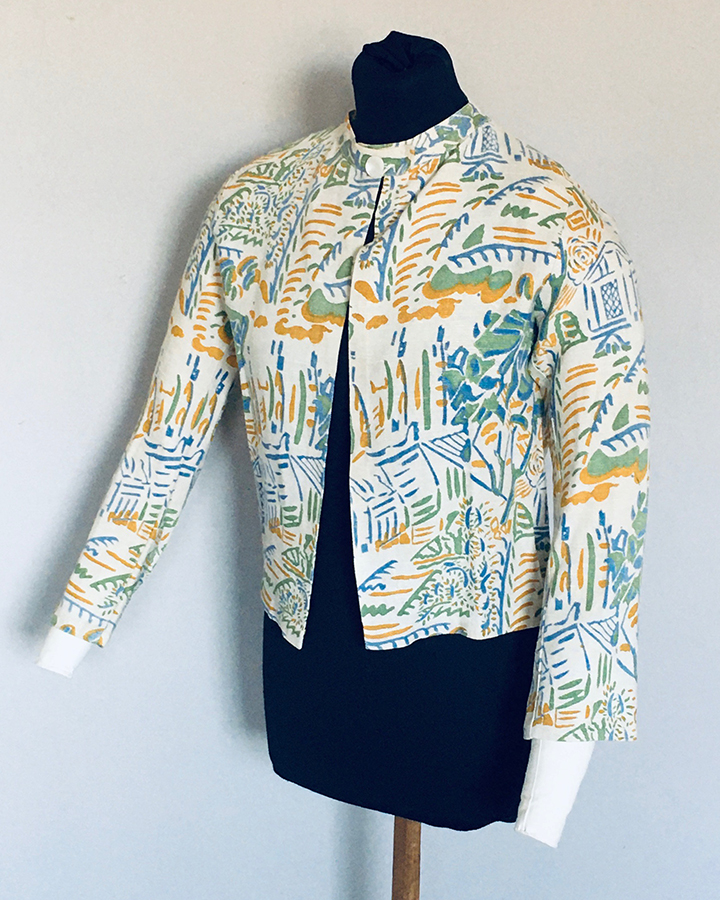 SOLD
Cryséde jacket
1925
Cornish Farm was probably among the earliest of a series of designs based on Alec Walker's landscape sketches and paintings. This design was exhibited at the Independent Gallery, Grafton St, London in 1925. A reviewer of the exhibition wrote A Cornish Farm has chimney pots and latticed windows behind which one knows they are eating sloe jam and cream
Cataloguing
Cornish Farm designed by Alec Walker hand block printed linen with farm buildings, trees and gardens. in mid blue, green & ochre on a white ground, made into a jacket in the 1940's with straight sleeves, button collar, The inner neck is lined with a patterned cotton from the 1940's.
Bust 32 in or 82 cm; 20 1/2 in or 52 cm long; repeat 16 1/2 in or 42 cm. Size 8-10 UK; 6-8 USA.
Condition
Excellent.
Comments
The design was illustrated in Frank Rutter's article on Alec Walker, Studio magazine, 1928 (vol 85).
Art Deco Textiles. Samuels, Charlotte p 128, Plate 104. The V & As piece is on silk.
Penlee Museum PEZPH 1999.10 for similar design but made into a linen dress.
Crysede Berriman, Hazel
http://collections.vam.ac.uk/item/O68134/cornish-farm-dress-fabric-walker-alec - A length of silk in same design.
See: My ARTICLE on Crysede.