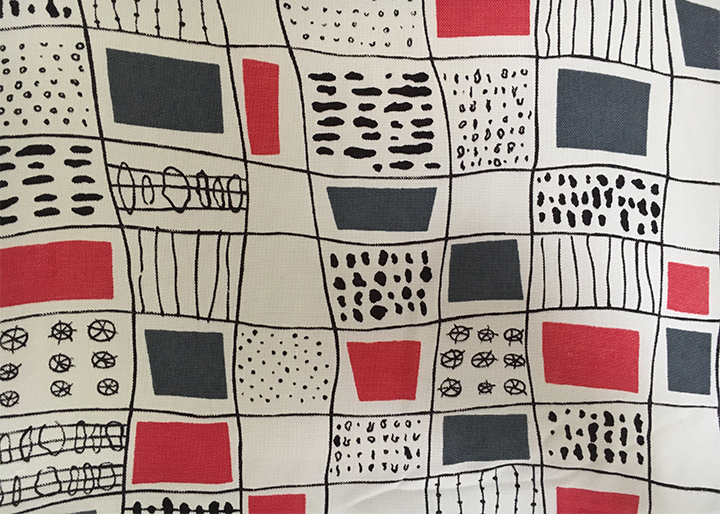 Terence Conran
1951
This would look great stretched over a wooden mount and hung on the wall.* Or ideal for cushions.
Conran was still a student at Central St Martins when he designed this fabric in 1949 for David Whitehead Ltd, who exhibited it at The Festival of Britain. The Festival promoted the most progressive of British design at a large exhibition on the South Bank of the Thames. A large number of David Whitehead's fabrics were chosen for the festival. Whiteheads was founded in 1815 by three brothers and David Whiteheads founded in 1927 as a subsidary company. Oriignally they produced awnings dyed ALizarine red, largely for the fairground market. Fabrics were conservative in character and the slump of the 30's and the WW2 curtailed production. In 1945 the chairman, made two important decisions which increased the production of the company. He decided to equip the mills with the most modern machinery they could buy, which gave the company the capacity to produce contemporary fabrics in volume. The second was the appointment in 1948 of John Murray, an architect with no previous textile training. Murray transformed the company's image by employing young artist designers to produce exciting and contemporary designs under the new trade name of David Whitehead Fabrics. Jacqueline Groag, Marian Mahler, John Piper, Roger Nicholson and Mitzi Cunliffe were all well known designers who worked for the company Conran produced designs for Whiteheads for a number of years and went on to set up Conran Fabrics with his wife Shirley. The Chequers design was later used in 1957 by Conran for his range of ceramics manufactured by W R Midwinter Ltd of Burslem. 2011 was the 60th anniversary of the Festival of Britain.
Cataloguing
Chequers designed for the Festival of Britain, screen printed by Rawtenstal, the white ground divided into an irregular graph with squares of red and grey, others empty and some with black repeat designs of lines and squiggles.
Drop 3ft 6 in; 1.10 m
Width 2ft; 60 cm.
Condition
The left hand side has the selvedge sewn under, from when these were curtains.
The right hand side is now unstitched.
The top and bottom are raw edges.
Some of the red and grey blocks are slightly washed out. It must have been the dye used, because they are not all the same. In a way this adds to the overall attraction of the piece.
Comments
See: Peat, Alan David Whitehead Ltd. Artist Designed Textiles 1952-1969 p 13
* We can do this for you.
Price: £95 | $130 | €110
Ref N°: Q