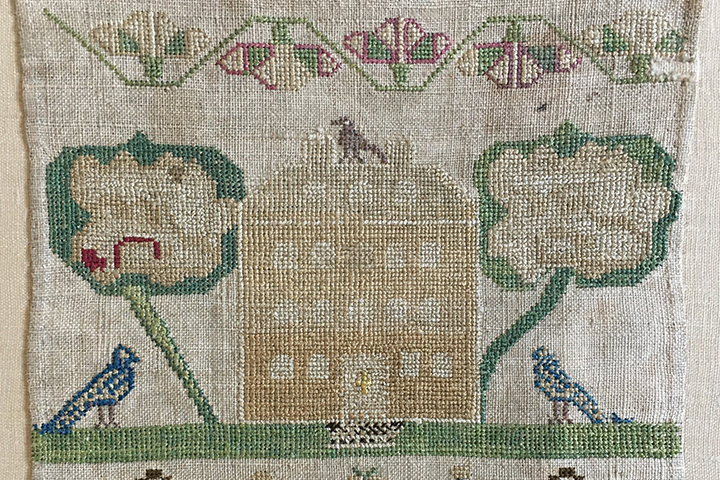 SOLD
Cattren Franquet
1746
Very unusual with the huge trees. This has been in my collection for many years but I have now reluctantly decided to part with it. The surname Franquet originates from Catalonia, meaning 'winner' or 'survivor'. There's a French expression deriving from it a la bonne franquette, meaning "living the good life".
Cataloguing
a long sampler with a bird perched on a three storey house flanked by bushy trees, blue birds perched on grass below, above the house are three alphabets and a bud meander, below the house vases of fruits and flowers and two angels, below Cattren Franquet finished this sampler in the twelft (sic) year of her ..... The of our Lord one thousand seven hundred and forty six, with a bud menader below, all worked in green, blue green, crimson, mauve, ivory, beige and brown silks on a natural linen ground.
18 x 8 in or 45 x 8.5 cm wide
Condition
The reverse is brighter than the front, as is usually the case in a sampler of this age. There is a small tear to the right hand side, as you look at the piece, 1/2 in or 1.5 cm and above that a darkish mark. I have had my conservator place a small piece of backing fabric behind the tear, and it is now very difficult to detect. This has now been hand sewn to a cotton backing, which has been stretched over acid free board, ready for a frame.