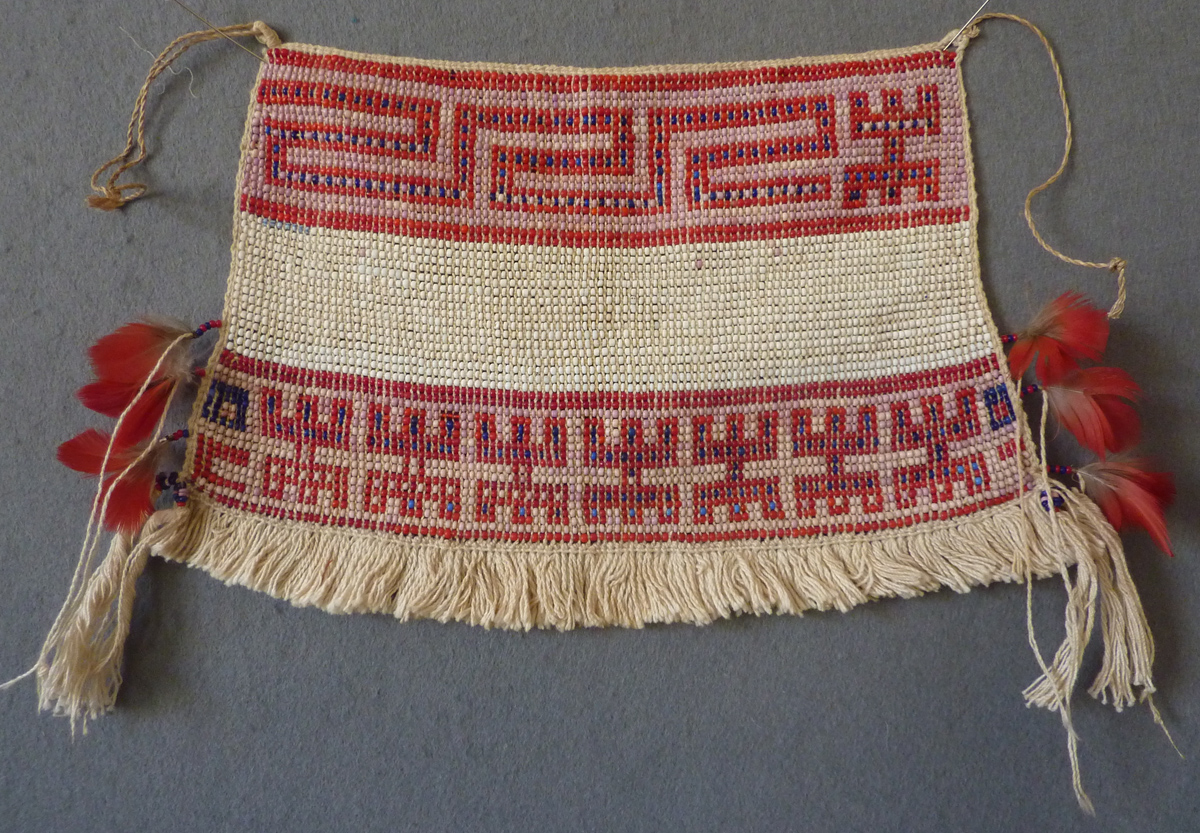 Wai Wai Apron
Early 20th c
The Wai Wai people are an endangered Amerindian tribe who live in the southernmost tropical forest in small remote villages of Guyana and the Brazilian Amazon; in the year 2000 there were only 130 in the former and 2020 in the latter. Wai wai means tapicoca because of the enormous amounts of tapioca (cassava) they eat. They still use Curare poison on their arrow tips and their traditional dances are characterised by the imitation of the movements and calls of forest animals and birds; often they decorate pieces that they have made with feathers, as is the case here. The Wai Wai economy rests on agriculture and on their artwork.
Cataloguing
woman's 'apron' . Wai Wai people, Guyana from the Esequibo-Maguera region. beaded white and light plum with deep red straight edged patterns, and dark blue decoration; knotted together with cream cotton, which creates a fringe at the bottom; attached to the sides are red and grey feathers; 10 ½ in x 6 in; 27cm x 15 ½ cm
Condition
Excellent
Comments
Caroline Crabtree and Pam Stallebrass, in their book Beadwork: A World Guide have an example of a similar beaded apron (page 107). According to them the weaving is done by women, starting from the waist of the piece and working away from themselves to them 'bottom' of the apron. The loose ends are tied off at the lower edge: this is the 'fringing 'descibed above. The website http://indian-cultures.com/Cultures/wai.html has a series of images of similar Wai Wai loincloths. Glass beads were made available to indigenours people during the rubber boom of 1880-1920. These newly available materials encouraged the development of vibrant and patterned regalia.
Price: £350 | $470 | €400