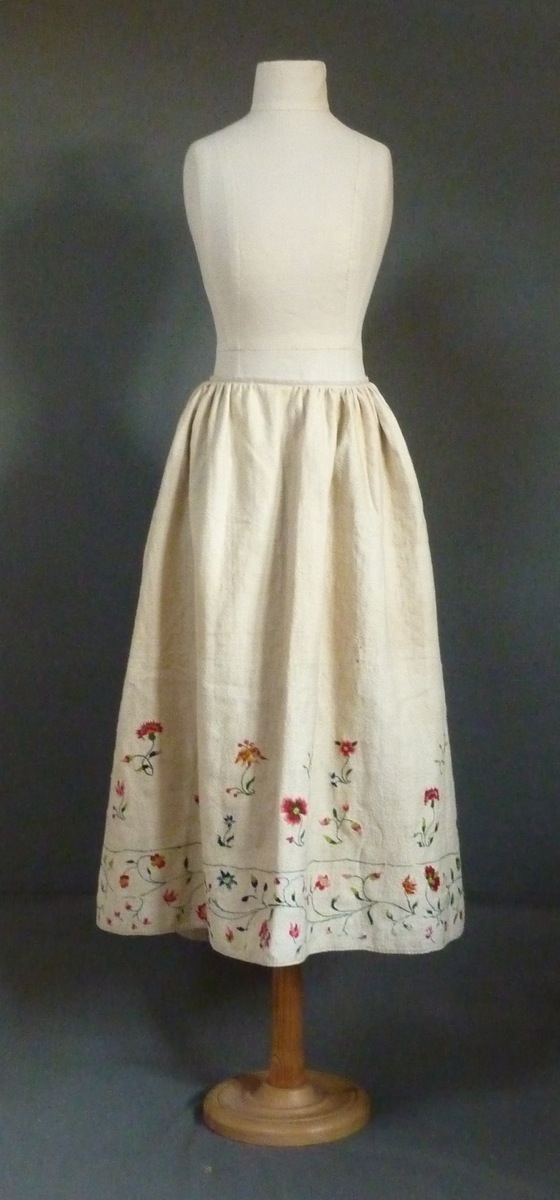 SOLD
Quilted & Crewel
Early 18th c
A most unusual piece. I first thought this might be American but having discussed it with a few people there is no reason for it not to be British. Vibrant colours and charming flowers.
Cataloguing
the new waistband of suitable linen tape, the top half of the skirt 17 in; 43 cm deep of cream twill weave wool and linen/cotton (fustian) mix, all diamond quilted, the lower width similar but finer fabric, not quilted, two inset linen panels, either side of the back opening with simple diamond quilting, an inset lower back panel 18 1/2 in; 46 cm wide is more like the top panel with scalloped quilting and embroidered flowers, the embroidery in wools with upright flowers including tulips, gilly and pinks, the border with a flower and leaf meander, all in clear shades of crimson, pink, yellow, lime and dark green, mid and dark blue wools, the whole skirt edged with cream linen braid.
33 x 7 ft 3 in or 83 drop x 2.2 m circumference.
Condition
No tears or stains. The odd small mark which you should be able to see in the photos. Slightly grubby and would benefit from a conservation clean. A little of the wool embroidery has come away. Again I hope you can see in photos. Do ask for more if you want to.
The lower band looks as if a teasel has been used to give it a nap. Never seen this before on the outside of a dress item, only on linings.
Comments
Boston Museum of Fine Art has a mid-18th century American petticoat of linen and cotton with crewel wool embroidery but not quilted. Accession No. 50.3175.
Eighteenth-Century Clothing at Williamsburg. Linda Baumgarten p 17.
National Museums Scotland have similar A.1979.17. My thanks to Emily Taylor, curator of NMS for giving me this and the below information
Musee Galliera 1920.1.1241 lined with chintz