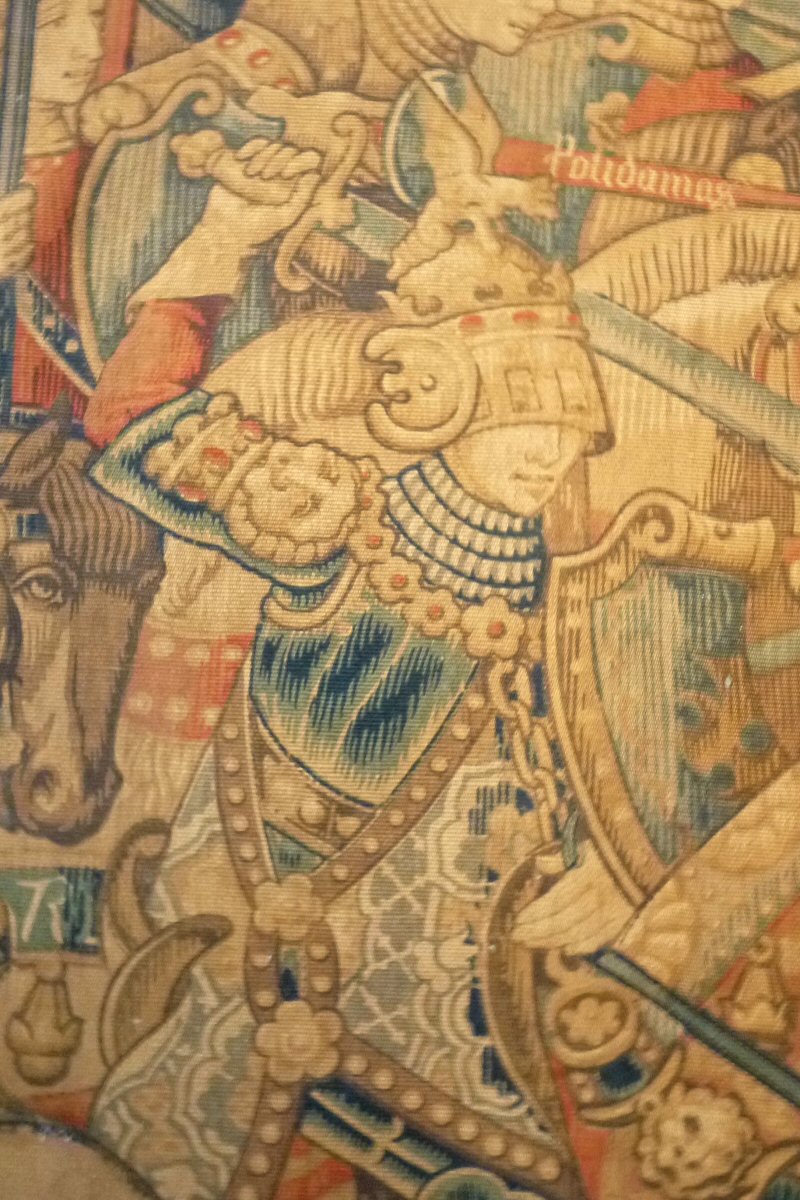 SOLD
Trojan Wars
Late 19th c
Marvellous subject, beautifully portrayed. A printed copy of a 15th century woven tapestry. .Would make a stunning wall hanging.
The tapestry depicts the legend of the wars between the Greeks and Trojans. Crammed with beautifully executed and lively scenes of battle, kings, queens, princes, warriors and horses. Contemporary costume and armour, waving banners and a military tent are depicted in exquisite detail. The centre depicts a battle between the Amazons and the Greeks.
My thanks to Jean-Francoise Keller of the Musée de l'Impression sur Etoffes who tells me they have the original tapestry of this subject, currently in an exhibition at the museum. Bal(l)ade, A musical stroll through the museum's collection which runs until 30 September 2018.
Cataloguing
Philimores et eneas vincit; Polidames et Panthasilea; Diomedes regina revincit; Equum dedit suisber trophea. Philimores and bronze wins; Polidames and Panthailea; Diomedes queen convicts

The horse gave her his trophy. Printed in rust, terracotta, ochre, pale green, indigo on a natural coloured cotton ground, 4ft 3 in x 8 ft 9 in; 130 x 267 cm long
Condition
There are quite a lot of splits to this hanging. Ask for detailed condition report. It needs to be stitched to a backing fabric and put on a wooden stretcher. It would look stunning hung and the damage would then not show nearly as much. Probably £200 to do this but can get an accurate quote should you be interested.
Comments
It is thought that there were originally 11 tapestries, of which this example, in the V & A Museum, is a section of the ninth. Some of the other tapestries survive and the original drawings are in the Louvre in Paris.