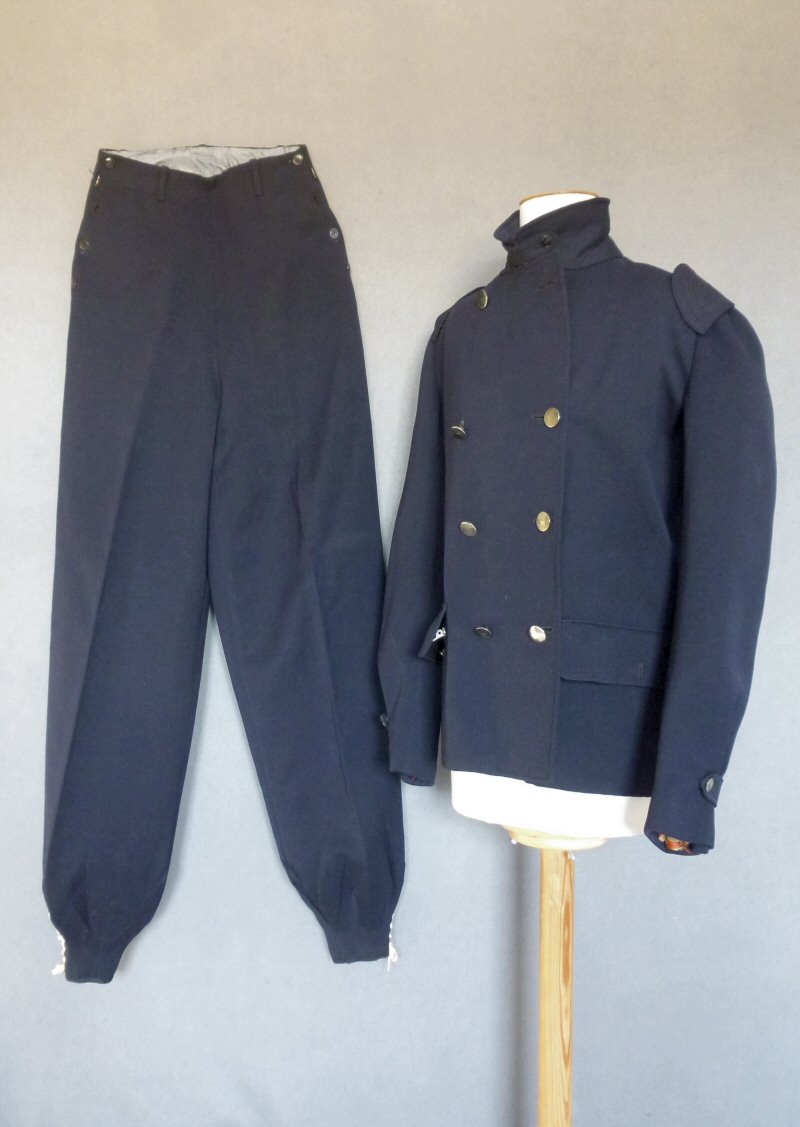 French Ski Suit
1930's
The label is no longer completely legible but the maker was in Paris at 44 Rue de Rivoli. The stitched epaulettes and soft curving cuff of trousers suggests this suit is 1930's. The suit was bought in the USA.
Cataloguing
labelled ............., .44? rue de Rivoli, Paris in red on beige ground, Navy wool twill weave double breasted jacket, the collar with buttoned tab and lapels, seven dark silver coloured metal buttons, hand sewn keyhole buttonholes, right or left hand closure, button down flap pockets with zip closures, detailed stitched epaulettes loosely attached to shoulders, sleeves slightly gathered at shoulder, fastened at cuff with buttoned tab, inside seams tape bound, sleeves and torso lined with rayon tartan, two shoulder straps buttoned at side seam. centre back box pleat and two belt loops, nape to hem 26.5 in / 68 cm; chest 38 in / 97 cm
Fall front side fastenaing trousers, each side with four buttons/ buttonholes, inside pockets, the waistband with five wool and two metal loops, the legs darted to cuffs with side closure of eyelet holes and laces, grey blue rayon lining to top area, pockets lined in cotton. waist 26in / 66cm; waist to ankle 46.5 in / 119 cm
Condition
In very good condition, underarm seam coming undone. Belt and one button from front fastening missing. Lining showing considerable wear. Trousers missing two buttons, one from each side opening. 2 cm small darn back right posterior. This is poorly worked and needs to be unpicked and mroe sensitively darned.
Comments
Johnson, Lucy She and Ski: The Development of Women's Ski Outfits, 1880-1930
Costume 38 - 2004.
Price: on request
Ref N°: 625