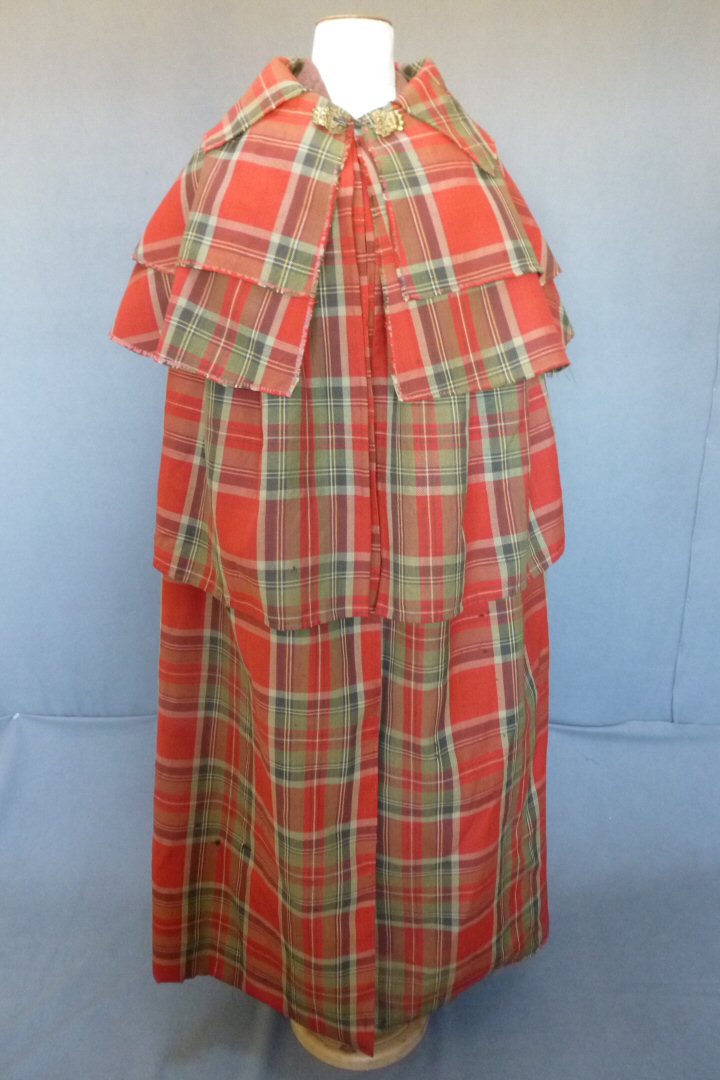 SOLD
Rare Royal Stewart
1820's
Rare because there are very few clothing items made from tartan and even fewer from what is called hard tartan woven from stiff worsted wool. The fibres are combed into alignment before being spun into a yarn. The resulting yarn is smooth and cool and will weave into a crisp looking and heavy wool cloth, ideal for traditional kilts and in this case a cloak. The fabric will have been woven by Wm Wilson and Son of Bannockburn* Soft tartans are woven from yarns in which the wool fibres are brushed, or carded so they lie at right angles to one another. When spun the yarn is springy and holds pockets of air making the resulting cloth warmer with a slightly fuzzy appearance and soft to handle.
Rather heavy to wear but extremely warm and weatherproof.
When King George IV visited Edinburgh in 1822, Sir Walter Scott, who was involved in organizing the celebrations, called for everyone to be plaided and plumed'** in tartan. George IV is said to have teamed his kilt with flesh-coloured stockings, but more fashionable men wore fitted coats of tartan. This was the first monarch to visit Scotland since Charles II in 1650, who made a contract with the Scots and was proclaimed king. With a Scottish army he invaded England but was defeated by Cromwell at the Battle of Worcester in 1651.
From the collection of Professor Sir Albert Richardson's Avenue House, Ampthill, Bedfordshire, residue contents were sold by Cheffins auctioneers, November 2013.
As a leading architect and President of the Royal Academy (1954-56) Professor Sir Albert Richardson had an eye for intricate detail both in architecture and art. John Betjeman wrote on the appointment of Professor Sir Albert Richardson as President of the Royal Academy, It is right that architects should be recognised as artists'and it was this artistic talent which encouraged and nurtured his collected pieces, formed over nearly eighty years. The Sunday Times once declared, Everything Professor Richardson does has this emotional flourish. This sentiment rings true throughout this collection which ranges from the Bygone groups of spit jacks and lanterns in the scullery to the stylish torcheres and mahogany secretaires in the hallways and to the collection of oils and watercolours.

Although the Professor rarely attended the many country house sales whose catalogues caught his eye, though saddened by their dissipation, he nevertheless bought many pieces from these sales to add to his growing collection, which is reflected in the excellent taste and style at Avenue House. It is now with considerable sadness that almost fifty years after the death of Professor Sir Albert Richardson, his grandson has decided to sell the collection.
Cataloguing
This woman's cloak has the wide collar, cut on the cross, with a double cape, secured at neck with pressed gold metal lion's paws, a deeper cape to below the waist, all edges raw cut with original red silk ribbon edging, lined with roller printed cotton with a green vermiculated design with black hatching lines, to imitate weaving, two large slits (for arm acess), length from back top collar to hem 57 1/2 in; 1.46 cm, hem 7 ft; 2.15 m. tartan fabric width 25 in; 63 cm
Condition
Virtually all the red silk ribbon edging has gone. There are feint traces of the front neck ribbon. It is not faded. Looking at the cape, on the left side there is a hole on the waist length cape, then further down on the main section there are a row of three holes 2 at 1.5 cm long x 1 cm and another smaller. There are also a smattering of smaller holes here and there. The front right hand side has one very small hole to the second layer, then under the third layer is a large hole, (covered by the layer), A smaterring of holes to this right hand side. The back has a smattering of small holes. The hem is quite badly holed where the cape has rubbed the ground. The lining is damaged to three area round the neck . Ask for photos.
Comments
The Chisholm cloak in the West Highland Museum, Fort William, Scotland, has the same red silk trim to the cloak as ours, so I assume it was made by the same hand, also dated 1820s http://www.clanchisholmsociety.org/public/artifactpics/art12/art12.phphttp://www.carmichaelwatson.lib.ed.ac.uk/cwatson/en/catalogueobject/5264/1/1/cloak/cloak/OBJECT
http://www.scottishtartans.co.uk/Stewart_of_Fingask_Fact_or_Fiction.pdf
http://nms.scran.ac.uk/database/record.php?usi=000-100-082-352-C
National Museum Scotland has a similar shape cloak but different tartan dated 1800-1810 http://nms.scran.ac.uk/database/record.php?usi=000-100-082-352-C
The Metropolitan Museum, New York has another with one cape 2009.300.8032a, b.
Colonial Williamsburg have similair cape they date to 1815. Accession no 1956-4.
National Trust Killerton House, Devon has a similar cape but different tartan. http://www.nationaltrustcollections.org.uk/object/1360836
Fashion plate showing the fashionable cloak shape. http://nms.scran.ac.uk/database/record.php?usi=000-100-104-790-C&scache=1erd938dv0&searchdb=scran
*To read more about the Wilson's of Bannockburn. http://www.tartansauthority.com/tartan/the-growth-of-tartan/tartan-production/weaving-the-cloth/wilsons-of-bannockburn/
**For a short history of tartan see Peter MacDonald's site http://www.scottishtartans.co.uk/history.htm