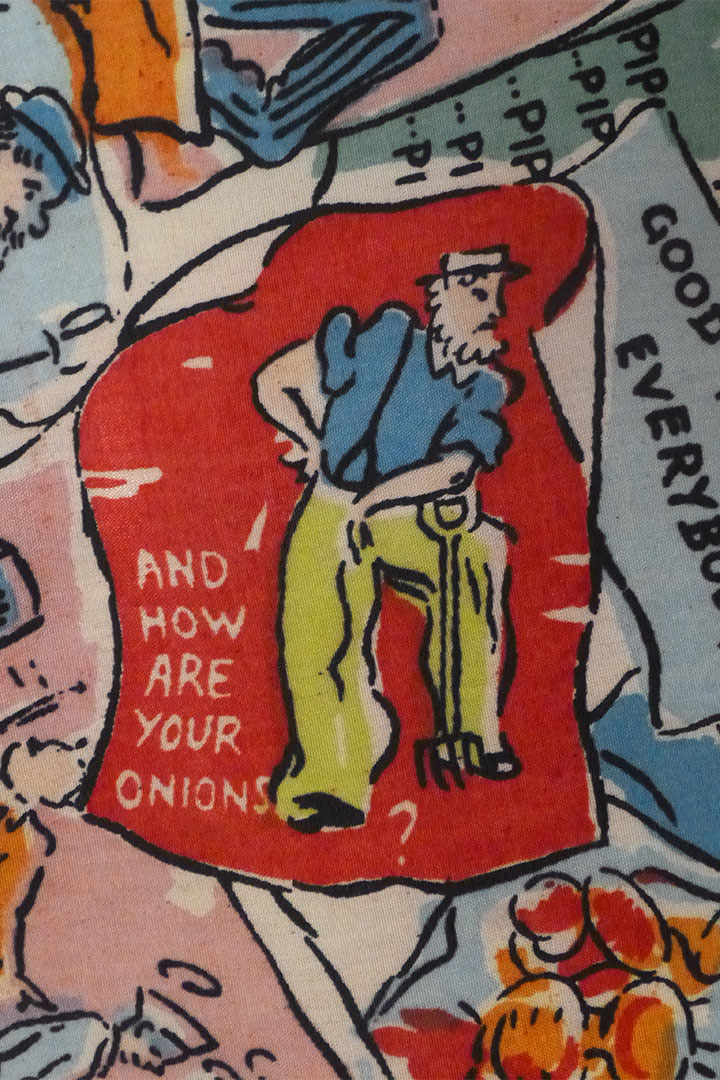 Jacqmar Presenting
1942
Arnold Lever, company designer for Jacqmar, designed this and other propaganda headscarves. See more information below.
Cataloguing
screen printed rayon headscarf for Jacqmar, Jacqmar Presenting, covered with pieces of paper with caricatured people and sayings (see below) all in bright red, green, blue, lemon yellow, mid brown, apricot and peach, rolled edges, 34 in; 87 cm sq
Here are some references to the quotations, kindly supplied by my neighbours Julie and Barry Davies. The Radio Doctor refers to Charles Hill a regular contributor to the programme which would give hints during a five minute chat, but always finished with Make sure the bowels are well open !!!!!! Guest Night - A fortnightly programme which became very popular during the war years. The Radio Times did not publish which famous guests would be on the show wanting to suprise it's listeners. One of the major musical figures from the golden age of wireless, Henry Hall's 'chat show' saw Britain through the dark days of war, and bearing a famous signature tune in 'Here's to the Next Time', it ran for 972 editions until the late '50s. Hall's regular greeting, 'Hello everyone, this is Henry Hall speaking', became something of a national catchphrase. In Town Tonight was a national institution which started on the radio's Home Service programme on 18 November 1933 and lasted right through until 1960 on Saturday nights at 7:30pm. The programme was a skilful blend of outside and studio broadcasting in the form of a topical magazine programme. Interviews were carried out with well known personalities on a variety of subjects and also with ordinary people who may have done something particularly interesting. Eric Coates composed the theme music Knightsbridge March. Gairmany Calling was William Joyce. It's that man again refers to Tommy Handley, the Liverpudlian, Who Kept us Laughing during the 2nd World War. The colliery band mentioned is The Black Dyke Mills Band. Two Way Family Favourites followed Forces Favourites with same presenters. It all depends on what you mean by .. Fourteen acorns simmer for 3 hours on a very low...refers to wartime cooking with very little. Perhaps it referred to a particular radio chef but I don't know who. The garden was probably Bill Sowerbutts, who was still on Gardener's Question Time until quite recently. Good Night children everywhereFor those people in Britain who have memories of the huge evacuations of children in 1939 and 1940, from the air raids of London to safety in the country, this song by Vera Lynn literally brings it all back - it was very much THE song at the time It all depends on what you mean Cyril Edwin Mitchinson Joad was an English philosopher and broadcasting personality. He is most famous for his appearance on the The Brains Trust, an extremely popular BBC Radio wartime discussion programme. He managed to popularise philosophy and became a celebrity. Joad nearly always opened with the catchphrase "It all depends on what you mean by…" when responding to a question.
Condition
Four pinhead holes anda couple of slightly larger, all near the edge of the shawl. You can only see them when you hold the scarf to the light.
Comments
The company was founded by Joseph (Jack) and Mary Lyons in 1932 with offices in Mayfair. Philip Sykas (Manchester Met University) has discovered that five of the designs were printed at the Langley Printworks near Macclesfield which was part of Brocklehurst Whiston Amalgamated from 1929. This archive is held by Macclesfield Museums. Whether this design is one of those five I have to find out. In Paul Rennie's article London Squares British Propaganda Textiles of WW2, April 2004 for Bard GC, NYC he states: Jacqmar produced a variety of propaganda textiles aimed at the export and home markets. They advertised their products as British designed and British made.The Cotton Board organised export trade exhibitions in 1941 and 44, particularly aimed at the American market but also at South Africa and South America. The propaganda prints are unusually unsigned. The Jacqmar style perfected by Lever and the studio was for a dynamic and expressive line drawing. The inexact registration of colour blocks over the line give a pleasing looseness to the design and hint at cubist influences. Lever established his own deisgn studio in 1947. Lever also block printed a scarf for Liberty's after WW2. In his article Rennie emphasises that the propaganda textiles of WW2, within their British context, survive almost exclusively as silk and rayon squares although more substantial garments do exist. These were used as headscarves and neckerchiefs. ...The style was endorsed by advertisements in the fashion press and modelled by celebrities He goes onto say that these textiles are particularly interesting because of the absence of political intervention in their creation, unlike in Europe. Scarves could transform an outfit. Not only did the well off by headscarves and this particular example would have been more expensive, but for women working on machinery it was essential to cover their hair to protect it and the scarf became an essential part of their uniform. It is not suprising that the scarf should emerge as an object with symbolic, patriotic and propagandistic meanings during a time of war, but also considered glamorous and desirable. See Post War British Textiles p 1 (my Bibliography)
* London Squares. British Propaganda Textiles of WW2. Paul Rennie. April 2004. Bard GC NYC.
Price: £350 | $450 | €410
Ref N°: 7998