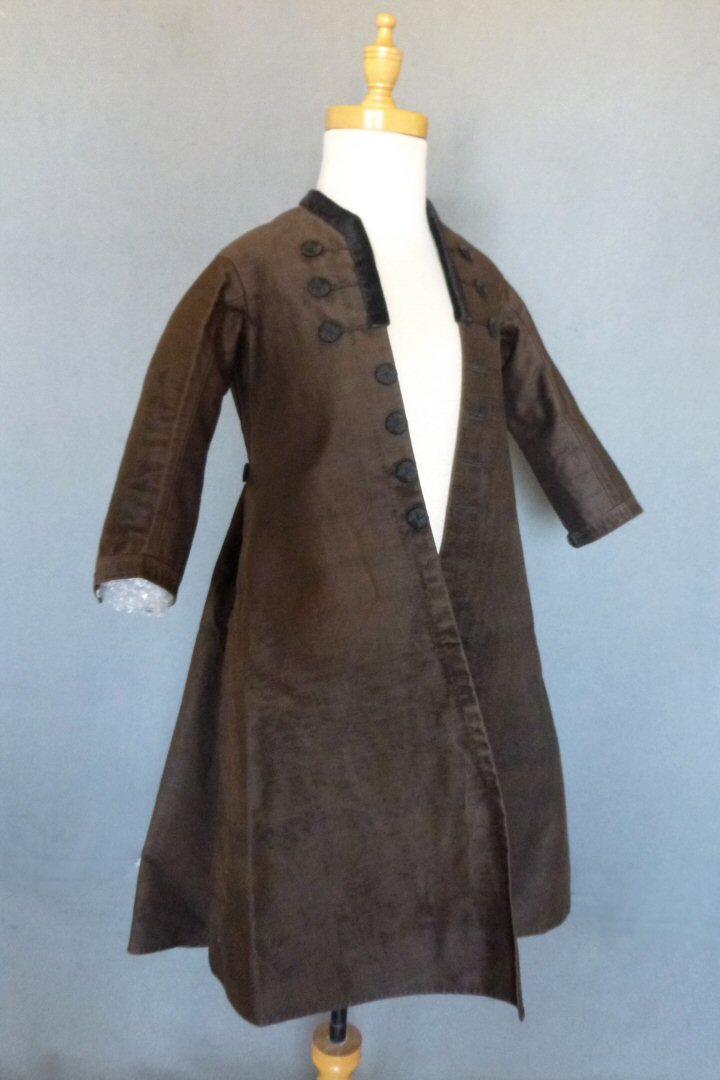 SOLD
Dutch Boy's Coat
18th c
A Boy's Frock Coat or Lankrok, This boy's robe dates from a era when young boys in Europe wore garments with skirts, a custom with unclear origins, but which most likely had to do with making it easier for them to urinate. A boy usually received his first breeches or trousers between four and seven years of age, sometimes in a special ceremony held by the family.*
This coat came from a rich family in Zuid Beverlands ( an area of Zeeland on the island of Walcheren ). Unfortunately we cannot get any more information.
The word rok was used all the time to describe pieces of clothing, today meaning a skirt.

A lankrok would have its roots in langrok - a long garment. We use lank/ lanky to describe something long and straight.




Cataloguing
The A shaped coat of stiff dark brown wool, the collar and top area edged with black velvet, three silk covered buttons to each side, then four buttons to either side, the back with a button either side of the waist, deep back opening, the sleeves with button closure, the top half lined with tobacco brown twill weave thick cotton? back neck to hem 32 1/2 in/83 cm
Condition
Very very good. No holes or wear.
Comments
I could not find any really similar frock coats. There are similarities to the button fastening in this miniatrue. http://collections.vam.ac.uk/item/O17310/portrait-miniature-of-richard-whitmore-miniature-lens-bernard-iii/
http://collections.vam.ac.uk/item/O94023/boys-robe-unknown/
http://collections.lacma.org/node/214679