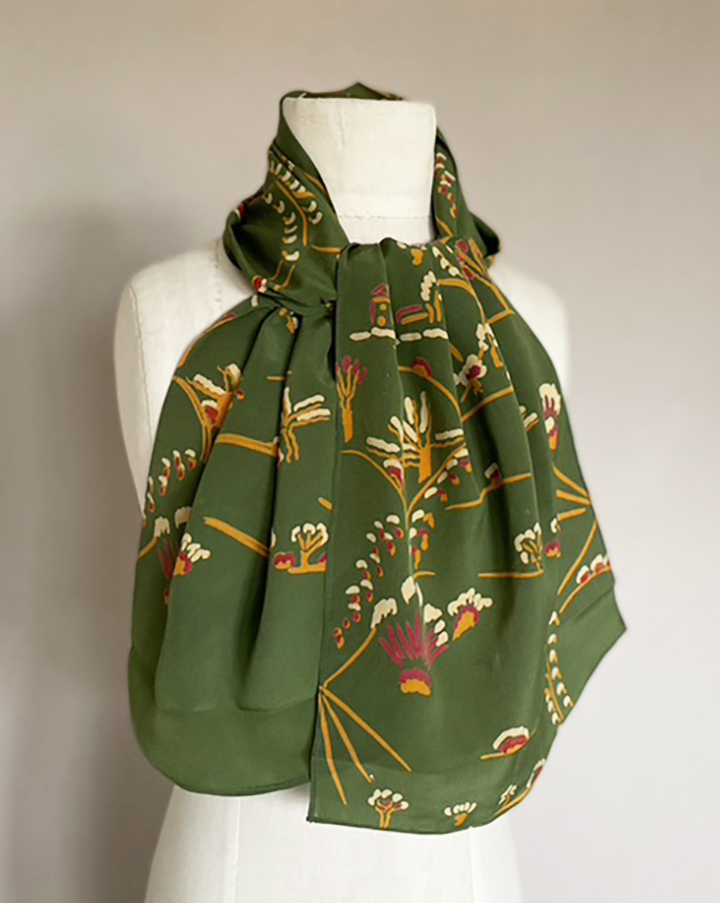 Crysede Silk Scarf
1930
Penberth Farm design can be found illustrated in mail order catalogues of 1930 and 1931. The design has been hand block printed with woodblocks the colour being driven in by a mallet, thereby gaining a depth which cannot be achieved by machine printing. The design was printed on the long scarf in opposite directions, so when worn the design will hang so all the design is one direction.
Cataloguing
Penberth Farm with radiating lines linking houses and trees, swooping birds suggested in the small dot pattern, designed in a painterly effect, hand block printed, all in soft red, orange and cream on a green crepe-de-chine silk groun.
4ft 2 in x 12 in/ 1.27 x 30 cm
repeat 13 1/2 in/
Condition
Very good. There are a couple of what look like small grease marks to one end. Couple of pin prick holes.
Comments
Crysede. Hazel Berriman. plate 28.
See ARTICLES - Crysede
Price: on request
Ref N°: 2020/11