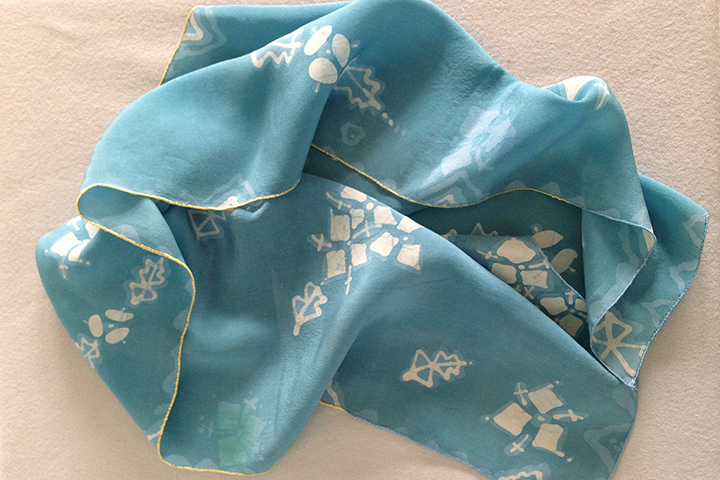 Jessie M King
1920s
Jessie Marion King (1875-1949) attended The Glasgow School of Art and was one of the Glasgow Girls. She is best known as a book illustrator but she also designed wallpapers, stained glass, ceramics, posters, bookplates, masque costumes, textiles and interiors. Her jewellery and silver sold in Liberty's. She later taught in the decorative arts department of the GSA. Marrying fellow student Ernest Archibald Taylor in 1908 she retained her maiden name, which was unsual at the time, probably because she was already established as a book illustrator. E A Taylor, artist, furniture and stained glass designer, was invited to Paris in 1910 and appointed professor in the Studio School of Drawing and Painting. Later Taylor and King ran The Sheiling Atelier School, a studio gallery for fine and applied art. Whilst in Paris, where the couple lived with their young daughter until the outbreak of WW1. At the atelier King met Frank Zimmerer, an American artist, who had also studied at the GSA. Each day Zimmerer wore a different shirt, which he had batik dyed himself, Brother Joseph as Zimmerer was known taught batik dyeing, a Javanese wax-resist technique then new to Britain, to King. King found by using silk instead of the traditional cotton, and by deliberately cracking the wax before immersion in the dye vat, she could reproduce the fine cobweb patterns of her pen and ink drawings. She produced batik curtains, hangings and clothing and wrote and illustrated a How to make your own Batik in 1924. She also illustrated How Cinderella Was Able to Go to the Ball which explained how to transform Cindrella's shabby dress into a ball gown, by using batik.*
Batik came into fashion and Liberty's bought many of her scarves, tie and fabric designs but by the late 20s the novelty had wained and was out of fashion. I do not know if this scarf was sold by Liberty's.
King was instrumental in introducing the batik technique to Scotland by giving classes at Green Gate Close, the house she had bought in Kirkcudbright, which became an important centre for women artists. At their summer courses batik was one of the subjects taught. **
Cataloguing
Bearing a label with a red seal Batik Scarf 10/6 d by Jessie M King The mid blue silk dyed in ivory with a batik design of squares, ovals and stylised leaves and flowers, the embroidered edge alternating with blue and yellow silk, an original paper label with a small red sealing wax stamp is attached with same yellow edging silk.
42 x 9 in; 1.07 x 23 cm wide
Condition
Very good apart from a light lemon stain 3 cm in circumference. Two corners to one end of the scarf have very light brown very small marks.
Comments
* The Enchanted World of Jessie M King by Colin White
** Several press cuttings about the book can be found in the papers collection (MS Gen 1654/471, 474, 477, 478).
Glasgow Girls. Women in Art and Design 1880-1920 edited by Jude Burkhauser. p 135.
http://www.gla.ac.uk/myglasgow/specialcollections/collectionsa-z/jessiemarionkingpapers/
Price: on request