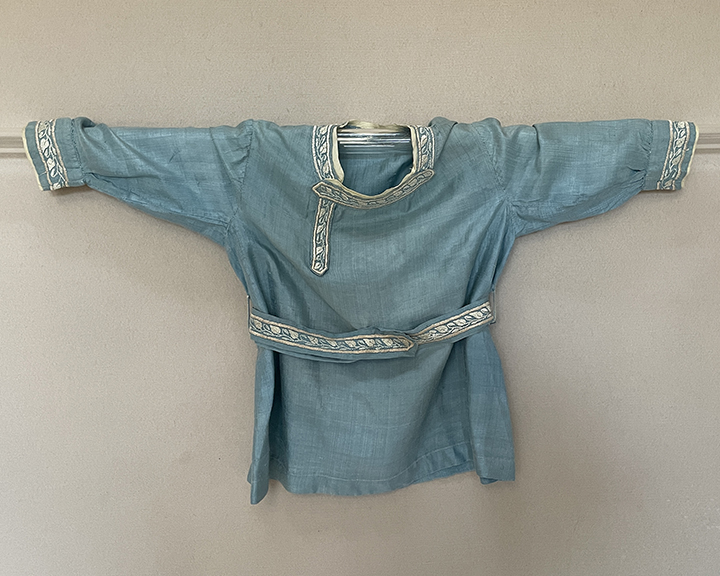 Liberty Child's Tunic
c 1910
This is a very unusual home made tunic, from Liberty's Tyrian silk in an art shade. The embroidery design would have been bought from Liberty's in the form of a transfer, which was ironed on to the silk. These could be ordered by post, but shoppers were given advice on the choice and arrangement of colour. An embroidery lesson could be arranged by appointment.
In 1884 Liberty & Co's Artistic and Historic Costume Department opened with its own studio and workrooms making garments from Liberty silks. E W Godwin, the architect and friend of Arthur Liberty was appointed to be director of the department. Godwin was Hon Secretary of the Costume Society and had made a study of historic costume. The children's department produced designs based on Kate Greenaway's illustrations. Smocking for both adult and children's dresses was extremely popular.
Presumably the tunic would have been worn with some matching silk shorts. I have not seen this style of garment before.
Cataloguing
The blue Tyrian silk tunic with squarish neck front, bordered by hand embroidered flower buds and leaves, poppers under the embroidered front side opening, the neck edged with ivory silk, the cuffs and belt similarly embroidered,
Top to bottom 16 in; 40 cm.
Underarm 26 in; 66cm
Waist: 29-30 in; 75-77 cm
Condition
Very good condition. Slight small brown mark to back of one sleeve 1 cm diameter.
Price: £225 | $320 | €260
Reduced to: £195 / $270
Ref N°: 759