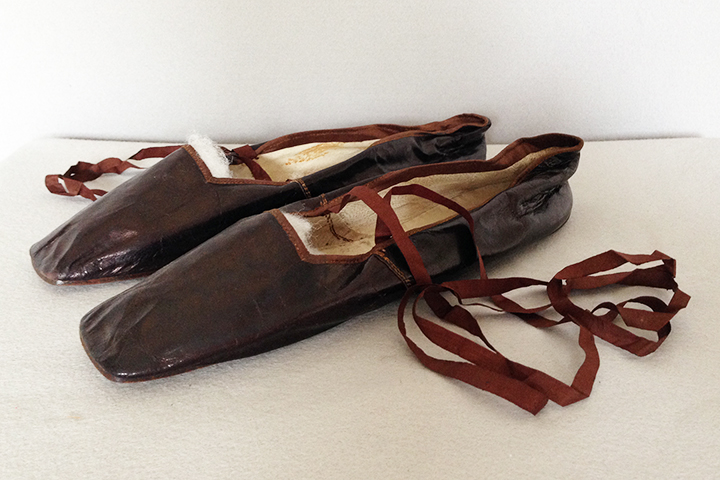 Bronze Glace
c.1830
It's so nice to have the original uncut ribbon which tied round the ankles. There is no left or right to these shoes. They are called Straights.
These have come by direct descent from the family of Samuel Bagster the elder (1772-1851) and, more particularly, his wife Eunice Bagster (1777-1877). They had two sons but no daughters. My guess is that Eunice would have been around 60 years of age when she wore these shoes.
Samuel Bagster was a publisher and author whose name became synonymous with Bagster bibles. He published numerous different editions of polyglot bibles with new notes and references. He presented bibles to King George IV, King William IV and Queen Victoria, who honoured him for his compilation of 'Bagster's Comprehensive Bible'. He died at his home at Old Windsor, Berkshire, on 28 March 1851, his wife Eunice (nee Birch) surviving him by some twenty-six years, dying on the eve of her 100th birthday. Queen Victoria certainly knew Eunice Bagster and the Royal Collection has a photograph of her, taken on her 99th birthday (23 August 1876) which was acquired by Queen Victoria. Family legend has it that Queen Victoria also visited Eunice Bagster the day before Eunice's 100th birthday with some flowers, knelt by Eunice's bedside and was blessed by her. Sadly, Eunice died that night, but family legend relates that the flowers left by Queen Victoria were used at the ensuing funeral.
Cataloguing
with long fronts culminating in a squarish toe, edged with brown braid, brown silk ribbon ties, lined with ivory kid, the soles of leather, Heel to toe 9 1/2 in; 24 cm.
Condition
Very very good. They could do with some specially made shoe trees.
Comments
Footwear by Alan and Vanessa Hopkins.
Price: £300 | $410 | €340
Ref N°: 740