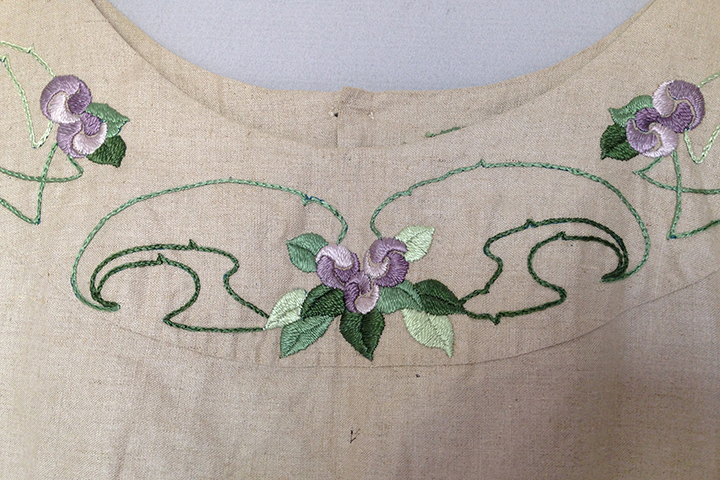 Suffragette Smock
c 1900
When you look at photos from the Glasgow School of Art and other art schools at this period, the female students are wearing similar smocks. The embroidery is similar to The Glasgow School of Art but my guess is she was a Suffragate sympathiser with the purple and green silks that have been used. Most, if not all the Glasgow Girls were women suffrage supporters so the WSPU purple, green and white colours of protest would be a popular choice for the embroidery.
Cataloguing
The large neck with a deep yoke embroidered with stylised purple flowers and green leaves, in two shades of thick floss silks, the full sleeves with double pleats, caugh5 mt into cuffs, similarly embroidered, a patch pocket similarly worked. the back opening with six linen covered flat buttons.
Shoulder to hem 53 in; 1.3
Condition
Very good. It is crisp and has the sheen of new linen. I would say this has not been worn. There are two very small light brown marks to the centre front. There is also two small, what looks like fresh biro markings.
Comments
Glasgow Girls edited by Jude Burkhauser p 190
My thanks to Irene Cockroft for her comments.
Price: on request
Ref N°: 755