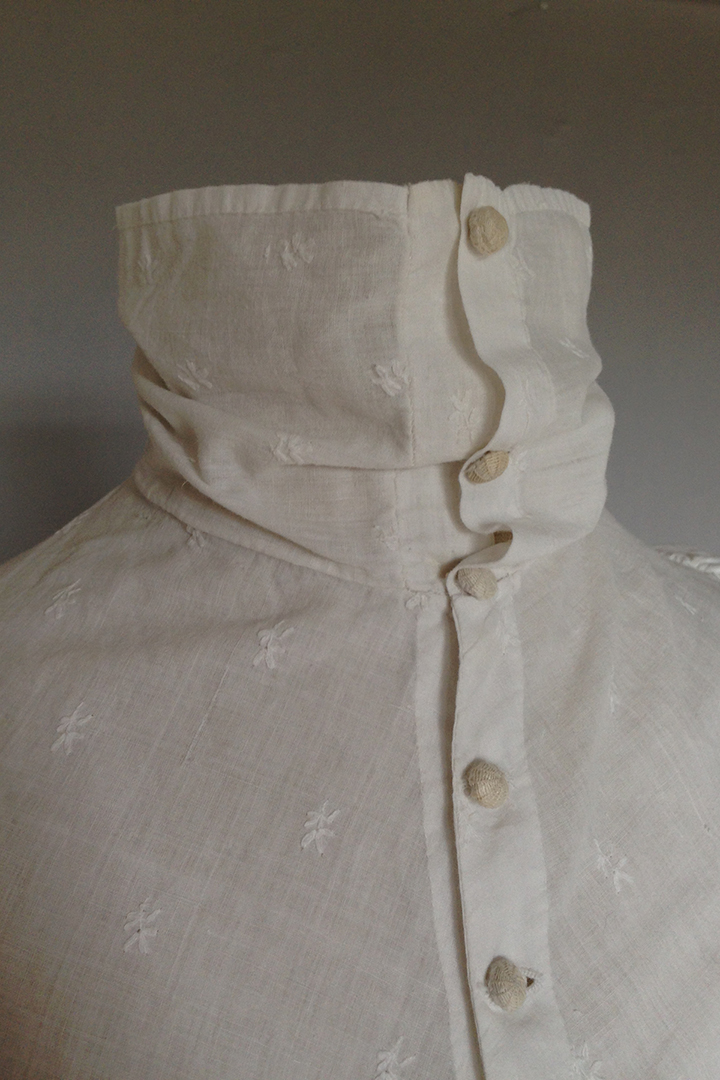 Habit dress
c 1820
There has been much discussion about this dress. My thanks to Hilary Davidson and Catriona Fisk for their extended e mails and thoughts that it was not. The dress was probably/possibly worn with a spencer for riding.
A dress worn by Eunice Bagster, who was in her early 30s when she wore this dress. Eunice knew Queen Victoria. Family legend has it that Queen Victoria visited the day before Eunice's 100th birthday with some flowers, knelt by Eunice's bedside and was blessed by her. Sadly, Eunice died that night, but family legend relates that the flowers left by Queen Victoria were used at the ensuing funeral. The Royal Collection has a photograph of her, taken on her 99th birthday (23 August 1876) which was acquired by Queen Victoria.
A most unusual dress with a buttoned high neck and bodice open at the sides. Cunnington tells us that in 1809/10 high necks buttoned all down the front was popular for day dresses** The pointed fall front which was pinned over the bodice is another unusual feature.
This dress has come by direct descent from the family of Samuel Bagster the elder (1772-1851) born in East Street, Holborn, London, and more particularly, his wife Eunice Bagster (1777-1877). Samuel Bagster was the founder of Bagster & Sons and an author whose name became synonymous with Bagster bibles. He published numerous different editions of polyglot bibles with new notes and references. He presented bibles to King George IV, King William IV and Queen Victoria, who honoured him for his compilation of Bagster's Comprehensive Bible. He died at his home at Old Windsor, Berkshire, on 28 March 1851.His wife Eunice (nee Birch) who had seven children, between 1800-1815, survived him by some twenty-six years, dying on the eve of her 100th birthday.
Cataloguing
White cotton embroidered overall with small cotton flower sprigs, the bodice with high neck, front opening with domed buttons embroidered like a spider's web, the sides of the bodice open, below plain cotton bodice flaps, with tape drawstring, the fall front with pointed panel, the long sleeves slightly fuller and gathered at the tops, set into the diamond back with embroidered loops to the high waist, a short undersleeve, tightly pleated skirt at centre back.
Front top button, under the high neck, to bottom of front bodice section 10 1/2 in; 26.5 cm.
Front flap width at bust 17 in; 43 cm
From top of sleeve to cuff 26 in; 66 cm.
Back neck to high waist 6 1/2 in; 26.5 cm
Back shoulder to hem 51 in; 1.3 m
Back width from centre of sleeve across body 7 in; 18.5 cm
Bottom of the dart across the back 3 in; 8 cm
Bust approx 35 in; 90 cm.
Underarm to high waist seam 3 1/4 in;
Condition
Very very good to excellent condition. I can't see anything wrong. The cord which ties round to the back of the dress and through the loops has been replaced.
It was difficult to dress the mannequin with the dress to make it look really good. My mannequins never seem to be the right size!
Comments
Costume in Detail by Nancy Bradfield p 87 (1803-5) and p 89 (1800-1810).
www.rct.uk/collection/2911060/eunice-bagster-1777-1877
** English Women's Clothing in the Nineteenth Century by C Willett Cunnington p 43. (Dover 1990).
www.npg.org.uk/collections/search/person/mp00211/samuel-bagster-the-elder
A drawing of Samuel Bagster.

Fashion. Kyoto Costume Instittue p 170 shows how this dress would have looked with a spencer or short jacket.
Hilary Davidson - is a historian of dress, fashion and textiles, working as a curator, lecturer, broadcaster, and consultant. www.hilarydavidson.net
Catriona Fisk who recently completed her thesis on 18th and 19th century maternity dress. www.catrionafisk.com/maternitywear https://www.tandfonline.com/doi/abs/10.1080/1362704X.2019.1603871
Price: £1,200 | $1,690 | €1,390
Ref N°: 746