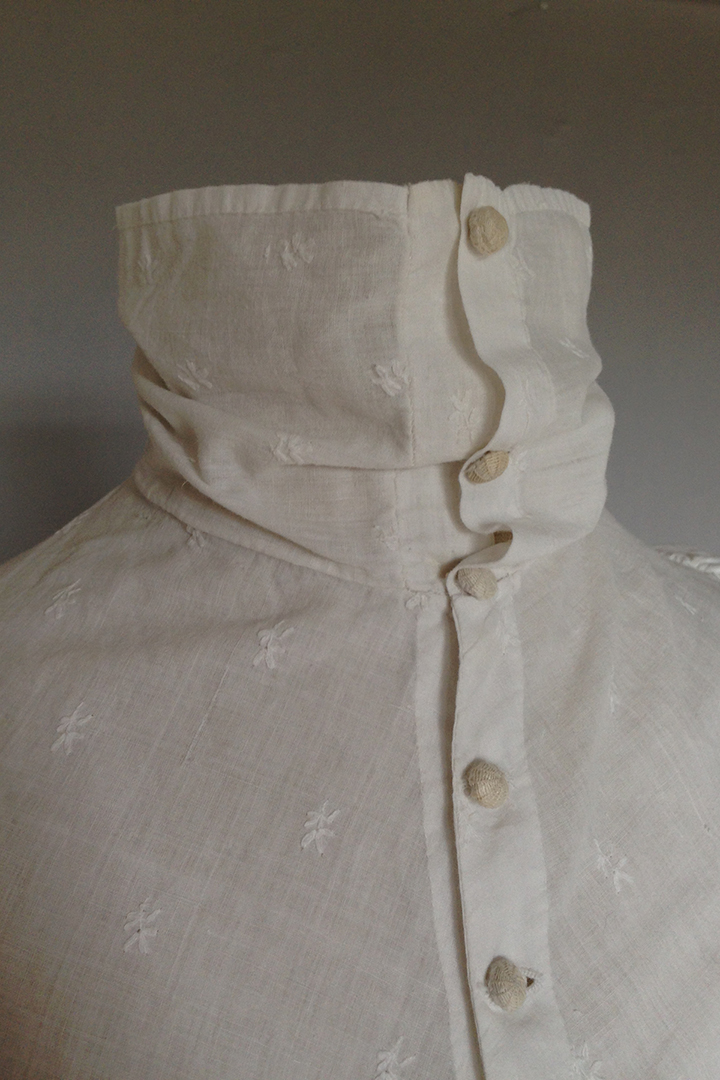 High Neck dress
c 1805
Another most unusual dress with a buttoned high neck and an over bodice open at the sides. Could this be for ease of movement, perhaps for riding ? The pointed fall front which was pinned over the bodice is another unusual feature. *
This dress has come by direct descent from the family of Samuel Bagster the elder (1772-1851) and, more particularly, his wife Eunice Bagster (1777-1877). Samuel Bagster was a publisher and author whose name became synonymous with Bagster bibles. He published numerous different editions of polyglot bibles with new notes and references. He presented bibles to King George IV, King William IV and Queen Victoria, who honoured him for his compilation of Bagster's Comprehensive Bible. He died at his home at Old Windsor, Berkshire, on 28 March 1851, his wife Eunice (nee Birch) surviving him by some twenty-six years, dying on the eve of her 100th birthday. Queen Victoria certainly knew Eunice Bagster and the Royal Collection has a photograph of her, taken on her 99th birthday (23 August 1876) which was acquired by Queen Victoria. Family legend has it that Queen Victoria also visited Eunice Bagster the day before Eunice's 100th birthday with some flowers, knelt by Eunice's bedside and was blessed by her. Sadly, Eunice died that night, but family legend relates that the flowers left by Queen Victoria were used at the ensuing funeral.
Cataloguing
White cotton embroidered overall with small cotton flower sprigs, the bodice with high neck, front opening with domed buttons embroidered like a spider's web, the sides of the bodice open, below plain cotton flaps, with tape drawstring, the fall front with pointed panel, the long sleeves slightly fuller and gathered at the tops, set into the back, diamond back with embroidered loops to the high waist, tightly pleated skirt at centre back,.
Back shoulder to hem 51 in; 1.3 m
Condition
Very very good to excellent condition. I can't see anything wrong. The cord which ties round to the back of the dress and through the loops has been replaced.
Comments
* My thanks to Jo Ann Stabb who kindly e mailed me to say : Perhaps this is a maternity dress for nursing - providing some privacy beneath the triangular bib yet access to the breasts for nursing a baby with the open sides?

Jo Ann C. Stabb, is recently retired faculty member in Costume Design at the University of California, Davis. This sounds like a very possible solution to the mystery. Is so this makes the dress extremely rare. Has anyone out there done work on maternity dresses of this period and see another similar?


Price: on request
Ref N°: 746