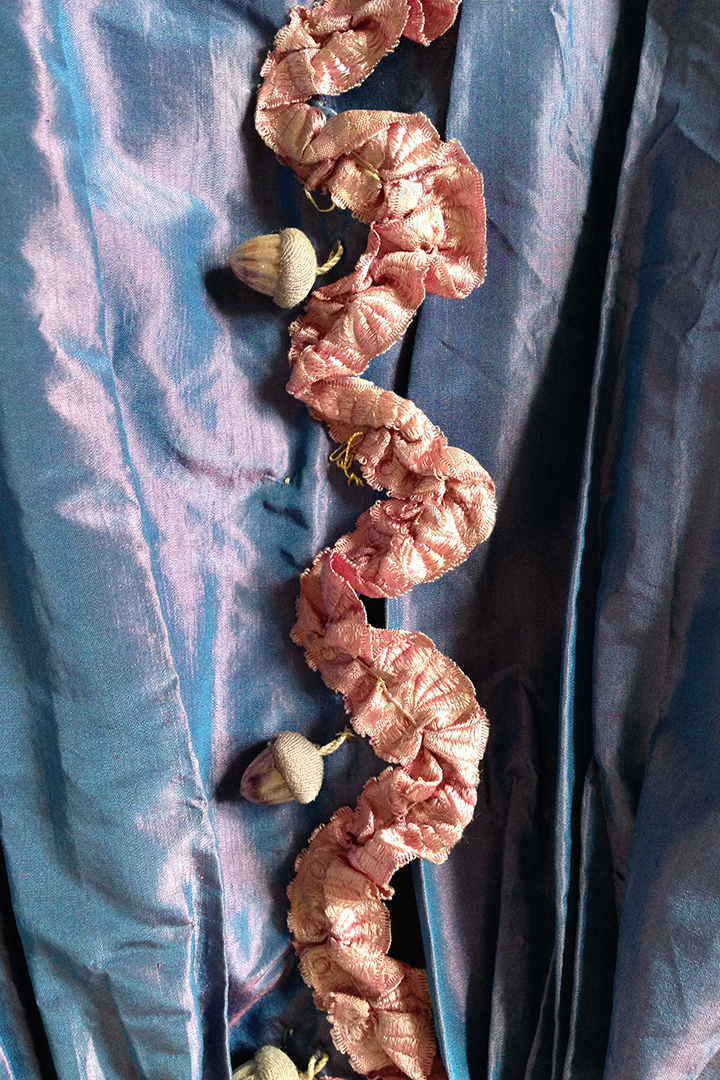 Pagoda Sleeved
1848-50
The acorn buttons and ruched silk trim on this dress really bring out the colours in the mauve/pink woven chine silk. Shot silks also called changeable silks or taffeta glace were very popular during the 1840s. In this case the silk was woven with a blue vertical warp thread and a pink horizontal weft thread, to give the marvellous sheen. The change of colour would have been particularly noticeable when the wearer moved together with the noise of the taffeta silk*.
Cataloguing
The high round neck with pleating to the shoulders, narrowing to tight pleats to the slightly pointed waist, stitched down at each side of the lower bodice, front opening with brass hooks and embroidered eyelet holes, edged to the front with scalloped ruched pink silk and acorn buttons, the acorn cup of woven wool, the fruit embroidered, the back with curving seams, flaring pagoda sleeves trimmed with a double scalloped row of ruching, the full skirt with widish pleats but with cartdridge pleating to the back skirt, pocket to the left hand side, as you look at the dress, the hem with a mauve wool dust protector, lined with white cotton.
Waist 24 in
Bust
Shoulder to hem 54 in; 1.39 m
Condition
Very very good. There should be four rows of stitching to either side of the lower bodice holding down the pleats. One row is missing and others have missing stitching. There is a small round mark 1 cm diameter to the back right hand side. Ask for photos.
Comments
* Fashion in Focus 1600-2009 Evans, Grace p 94
Nineteenth Fashion in Detail. Johnston, Lucy p 174 and 196.
Price: £550 | $740 | €620
Ref N°: 8115