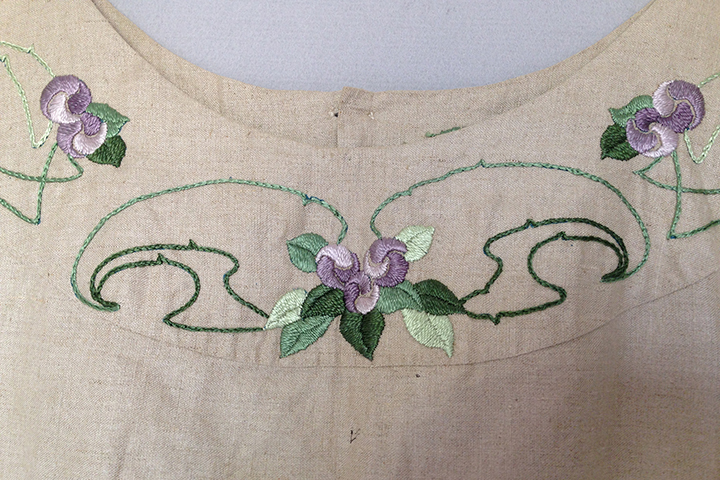 Suffragette Smock
c 1910
When you look at photos from the Glasgow School of Art and other art schools at this period, the female students are wearing similar smocks. The embroidery is similar to The Glasgow School of Art but my guess is she was a Suffragate sympathiser with the purple and green silks that have been used. My thanks to Liz Arthur who has kindly given me the following information: The embroidery could also be from Liverpool or Birmingham, particularly after 1911 when Swanson & Macbeth published Educational Needlecraft. The Studio magazine is full of similar designs from around that time.
Cataloguing
The large neck with a deep yoke embroidered with stylised purple flowers and green leaves, in two shades of thick floss silks, the full sleeves with double pleats, caugh5 mt into cuffs, similarly embroidered, a patch pocket similarly worked. the back opening with six linen covered flat buttons.
Shoulder to hem 53 in; 1.3
Condition
Very good. It is crisp and has the sheen of new linen. I would say this has not been worn. There are two very small light brown marks to the centre front. There is also two small, what looks like fresh biro markings.
Comments
My thanks to Irene Cockroft who is an independent exhibition curator, author and lecturer specialising in the story of women's involvement in the late 19th, early 20th century Arts .
Price: on request
Ref N°: 755