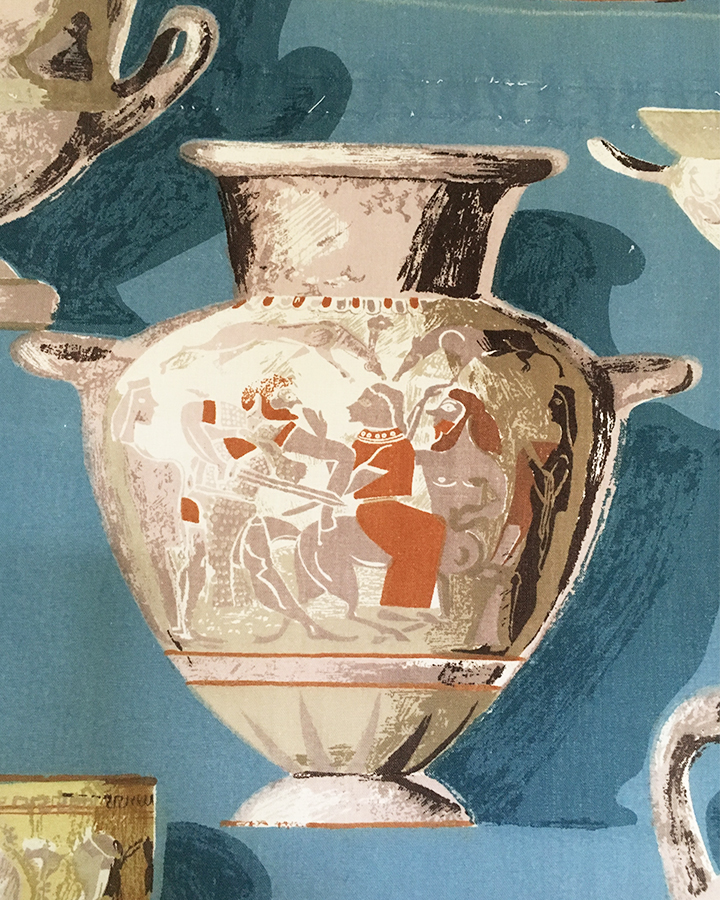 Etruscan Vases - Blue
Late 1950s
Stunning dramatic design. Look good as wall hangings or curtains. We can sew velcro to the top back which is applied to a narrow wooden plinth on your wall, with velcro. We would weight the bottom so it hung really well. I would consider selling these seperately.
Cataloguing
The rich pale blue cotton ground screen printed with ten different sized large Etruscan vases, all with scenes from Greek mythology, in soft terracotta, brown, pinky/beige and yellow.
Pattern repeat. 2ft 3 in; 69 cm drop.
2 lengths 7 x 4ft ; 2.15 x 1.25 m wide. I would like to sell these together as they are such good long lengths.
Condition
There is 2 in; 5 cm of slight fading to the outer edges of all four drops. Otherwise good and strong.
Comments
The Geffrye Museum in London have a piece in red. They say it was manufactred in France.
https://www.geffrye-museum.org.uk/collections/explore-our-collections/item-detail/?id=O14796&index=25
Reserved