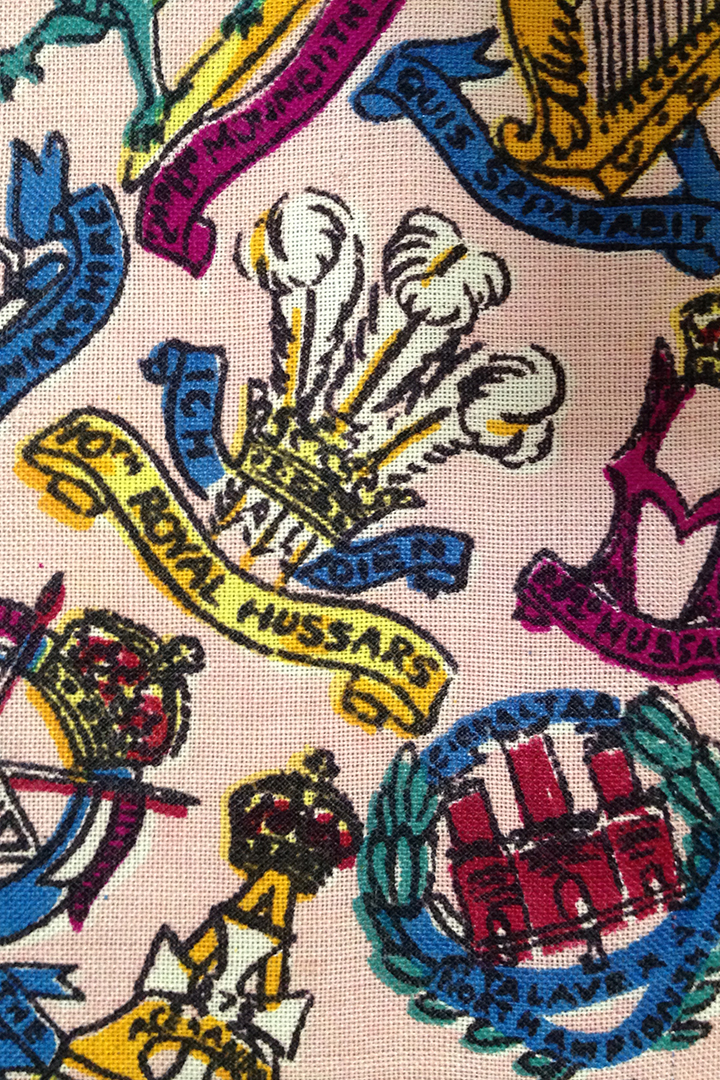 Into Battle
1940
Jacqmar was founded by Joseph (Jack) and Mary Lyons in 1932. They had offices in Mayfair. The company designer was Arnold Lever who designed propaganda headscarves. Philip Sykas (Manchester Met University) has discovered that five of the designs were printed at the Langley Printworks near Macclesfield which was part of Brocklehurst Whiston Amalgamated from 1929. This archive is held by Macclesfield Museums. Whether this design is one of those five I have to find out. In Paul Rennie's article London Squares British Propaganda Textiles of WW2, April 2004 for Bard GC, NYC he states: Jacqmar produced a variety of propaganda textiles aimed at the export and home markets. They advertised their products as British designed and British made.The Cotton Board organised export trade exhibitions in 1941 and 44, particularly aimed at the American market but also at South Africa and South America. The designs fall into three main thematic groups: service, friends and victory. The propaganda prints are unusually unsigned. The Jacqmar style perfected by Lever and the studio was for a dynamic and expressive line drawing. The inexact registration of colour blocks over the line give a pleasing looseness to the design and hint at cubist influences. Despite being called up to the Forces during WW2 Lever continued to design for Jacqmar. After the war in 1947 he established his own deisgn studio.. Lever also designed and block printed a scarf for Liberty's after WW2. In his article Rennie emphasises that the propaganda textiles of WW2, within their British context, survive almost exclusively as silk and rayon squares although more substantial garments do exist. These were used as headscarves and neckerchiefs. ...The style was endorsed by advertisements in the fashion press and modelled by celebrities He goes onto say that these textiles are particularly interesting because, unlike in Europe, there was an absence of political intervention in their creation. Scarves could transform an outfit. The scarf became an essential accesory for working women, particualrly women working on machinery, to protect their hair. It is not suprising that the scarf should emerge as an object with symbolic, patriotic and propagandistic meanings during a time of war , but also considered glamorous and desirable. Jacqmar scarves would only have been bought by well off women.
This scarf is particularly nice because it almost has the feel of a fine wool, but is almost certainly a rayon.
Cataloguing
World War II headscarf, the border printed with a repeat slogan Into Battle around the border of the scarf, and Jacqmar, London , the corners with the Regimental cap badges of the British Army including 25th Dragoons; XXV1 Hussars; a double headed eagle and Or Glory , the centre with the Victoria Cross surrounded with regimental badges including 25th Dragoons; York and Lancaster; The Royal Hussars; Royal Scots Greys; Middlesex Regt; Lincolnshire; Cornwall; The Lancashire Fusiliers, screen printed rayon, the middle ground in pink, the border in stone with maroon, green, blue yellow, mauve an black.
35 in or 90 cm square
Condition
Very very good.
Comments
London Squares . British Propaganda Textiles of WW2 by Paul Rennie
Post War British Textiles by Paul Rennie.
Wearing Propaganda 1931-1945, Jacqueline M. Atkins, fig 11.3 in a different colourway.
Price: £300 | $410 | €340
Ref N°: 8145