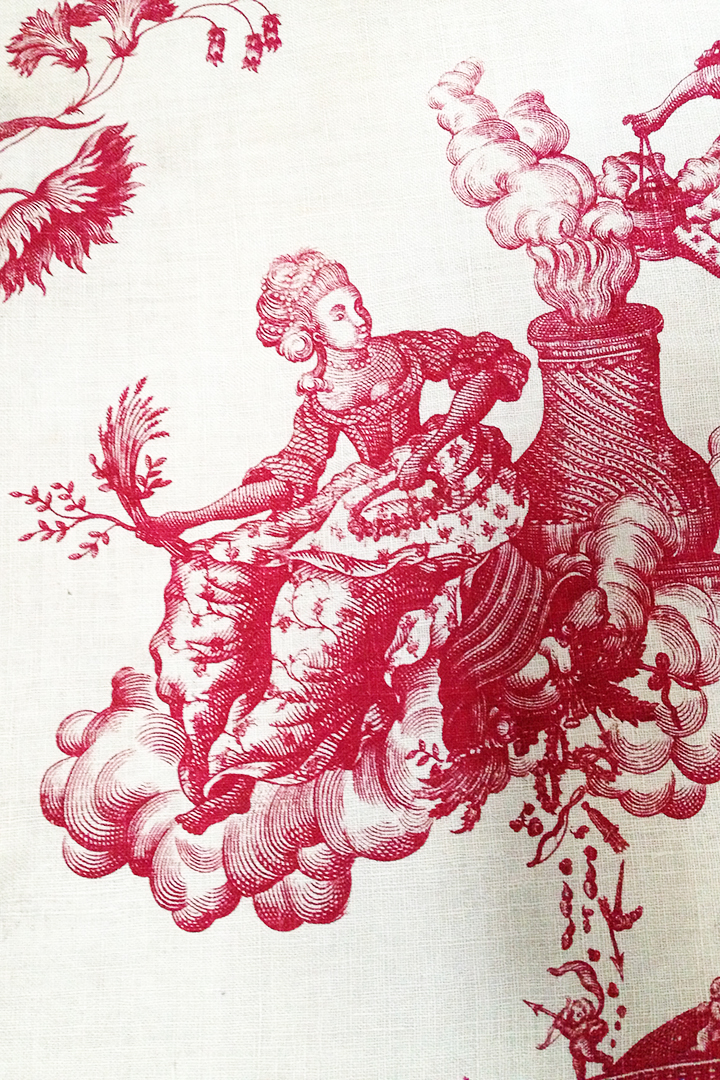 SOLD
Le Temple de L'Amour
1785
Manufactured by Gorgerat Freres et Cie at Nantes.
The scenes on this toile are really delightful. This piece was originally for the top canopy of a four poster bed, the under section which you would look at when lying in bed. How delightful that must have been. It could be used as a bedcover or wallhanging and would make you smile each time you looked at it!
Cataloguing
The coverlet with deep scalloped sides, copperplate printed in a deep red on a plain weave cotton with scenes of love.
The centre length 5 ft 10 in; 1.78 m; The centre width 4ft 7 in; 1.4 m + the scalloped edging is 8 in; 20 cm deep.
A total length 7ft 4 in; 2.25 m. Total width 5ft 10 in ; 1.78 m
Condition
There are eight patches and a few old darns. One small light brown mark. Ask for detailed condition report and photos.
Comments
http://collections.vam.ac.uk/item/O89875/curtain-john-marshall-sons/
The Art Institute of Chicago also has a length.
http://www.metmuseum.org/art/collection/search/226934?sortBy=Relevance&what=Textiles&ft=marshall+and+sons&offset=0&rpp=20&pos=1
There are more pieces by this manufacturer in the Cooper Hewitt New York and Philadelphia Museum.
https://www.google.nl/search?q=john+Marshall+%26+son+textile+printers&ie=utf-8&oe=utf-8&client=firefox-b&gfe_rd=cr&ei=9F5ZWOX3DYXe8gfarYLwDQ
https://en.wikipedia.org/wiki/Marshall's_Mill