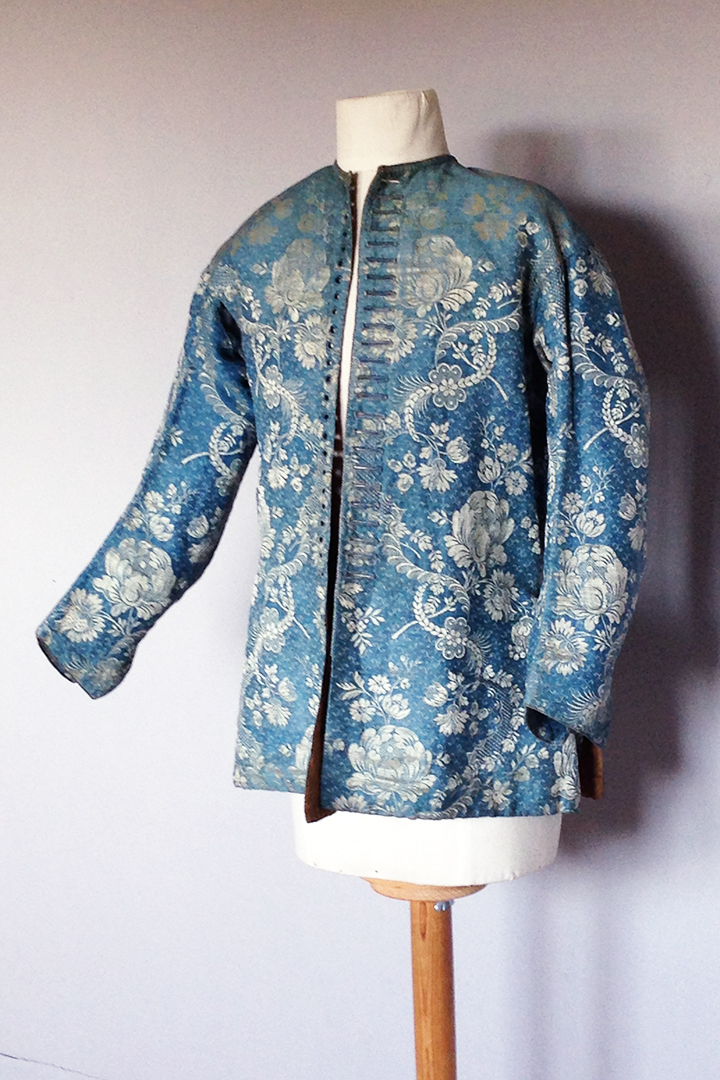 Rare Dutch Waistcoat
1760s
Originally this simple sleeved waistcoat called a hemdrok was worn by sailors and farm workers, tucked into their voluminous breeches for practical reasons. Often two or three waistcoats were worn.The garment was hip length , fitted and the button opening ended at the waist. By the 18 th century the hemdrok evolved into a decorative jacket worn by high ranking seamen using rich fabrics and decorative buttons. At home the ordinary sailor would wear the jacket for Sunday best. Small ball buttons in close rows decorated the front and sleeves, held together by a connecting cord. Depending on one's wealth they might be made of gold, silver or tin.

The provence of Friesland with trading ports on the Inner sea had a large seafaring community who called the jacket borstrok, baeitje or busje. Due to Holland's fame as a sea faring nation Peter the Great spent a year around 1700 in Holland learning seafaring and shipbuilding skills. A set of original items of clothing of this date including a hemrok are in the Hermitage Museum, St Petersburg.
The brcade is probably French. By candlelight the silver colour in the brocade would have glistened. Interestingly the silk edging braid is similar to that on the Chinese export skirt also on the site. The waistcoat is small so probably worn by a young man.


Cataloguing
The light blue silk damask woven with silver coloured design of a ribbon and lace meander with sprays of flowers, some with large flowerheads, round neck, the front with slits and holes, beautifully hand embroidered, the front left with a slanting, overlap, the sleeves slit under the arms for greater movement, a two tone blue and silver cord edging the waistcoat, the side backs with slits and slight pleating, lined with coarse linen.
Bust appoximately 34in; 87 cm
Back to hem 25 in;65 cm
Condition
Very good. No stains or damage. The warp threads have rubbed in places. This is very minor indeed. Ask for detailed photos.
Comments
Made in Friesland 1750-1950 by Gieneke Arnolli p 30/31
http://www.bonhams.com/auctions/16286/lot/263/
http://www.geheugenvannederland.nl/nl/geheugen/view/damasten%20hemdrok%20hippolytushoef%20eeuw?query=hemdrok&page=2&maxperpage=36&coll=ngvn&identifier=NOMA01%3AHM4293
Price: on request
Ref N°: 791