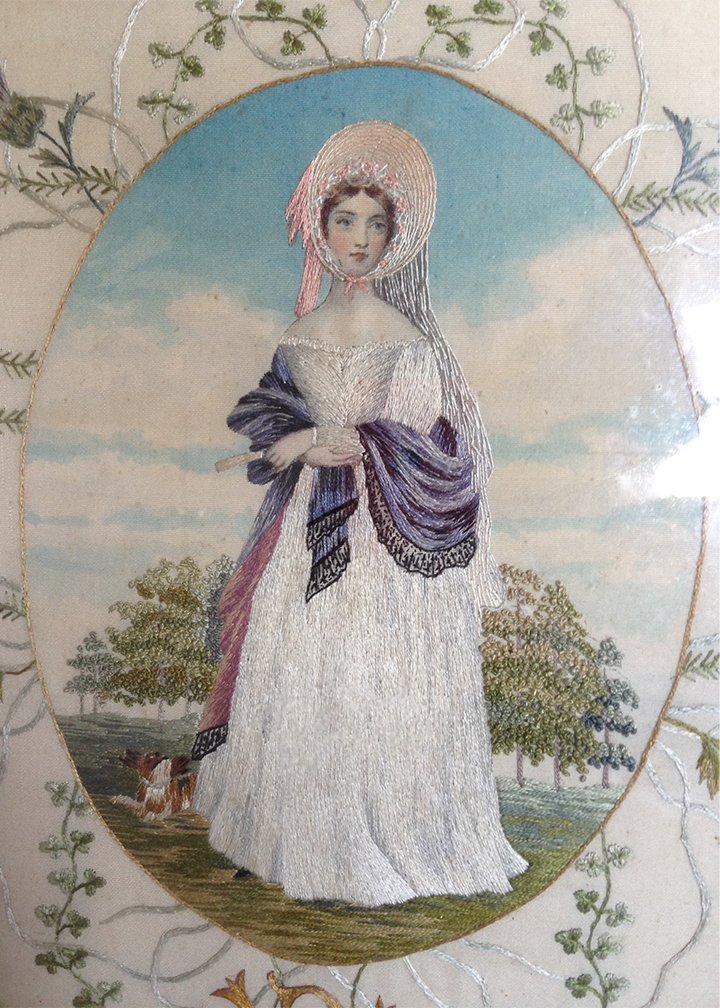 Queen Victoria
1837
This delightful rare picture commemorates Princess Victoria (1819-1901) becomming Queen in 1837. I have only seen one other silkwork picture similar to this to buy in 30 years! Of course 2019 commemorates 200 years since her birth.
Cataloguing
depicted standing in a park, the trees worked in French knots, looking pensively to the distance, a straw bonnet with flowers on the brim, ribbons falling down the back, her ivory dress with large neck and long sleeves, a black silk shawl round her shoulders, her small spaniel Dash at her feet, the sky hand painted, all within an oval flanked by a crown, surrounded by ribbons, with thistles, roses and shamrock, the base with VR and 1837, all embroidered in fine silks on a silk grosgrain ground.
Actual embroidery 12 in; 32 cm;
Frame15 in; 38 cm drop
Condition
The embroidery is in excellent condition. the very edge of the silk closest to the frame is slightly grubby. The frame is awful! I think it is the original frame but someone has re gilded very badly. I would re frame it.
Price: on request
Ref N°: 8168