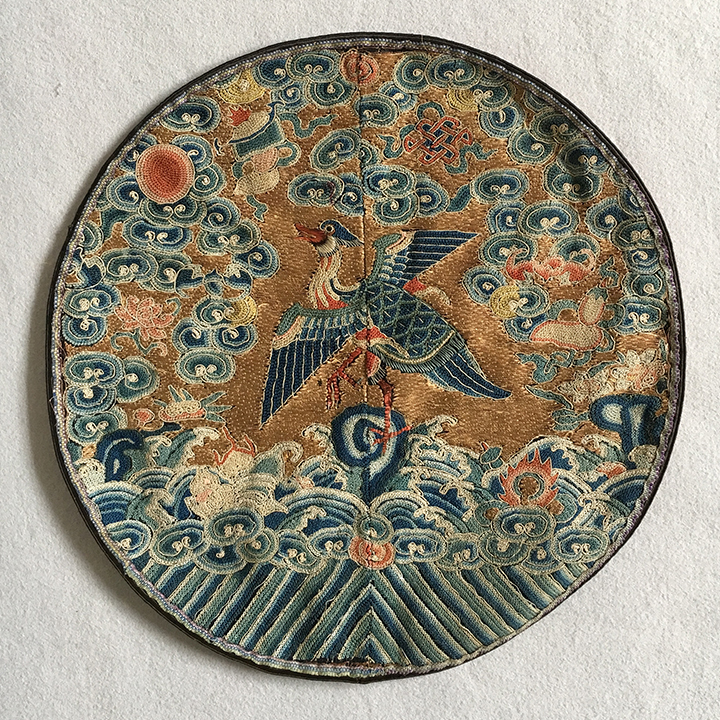 Chinese insignia
Last 1/4 19th c
for a seventh ranking official of a mandarin duck. This badge has come from a mandarin's surcoat. It was from the front of a robe, with a central seam. Originally this would have been divided between each side of the robe. This would look good mounted and framed. We can do this for you.
Cataloguing
The circular badge of rank embroidered with the mandarin duck staring at the sun (the Emperor) worked in tight Peking knots, the bird with outstretched wings standing on a rocky outcrop amonst the turbulent waves, the sky filled with clouds and bats, symbols of happiness and some of the Buddhist symbols such as the endless knot and the parasol, all in shades of blue, vermillion, yellow and off white, the background couched with gold wrapped silk, edged with very narrow fine hand woven braid, lined with vermillion silk.
Condition
Very good. The odd little white silk coming away on the lishui wave border. A little of the cuching near the bird's left leg, as you look at the badge, is slightly loose.
Price: £495 | $670 | €560
Ref N°: 8182