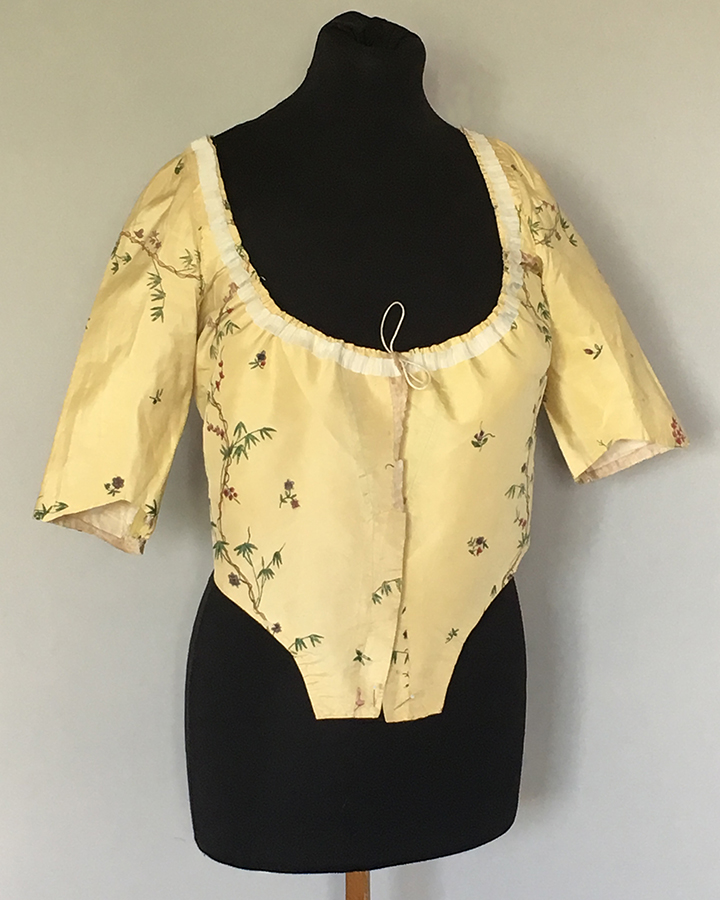 SOLD
Chinese Painted
1770s
It is rare to find pieces of dress made from hand painted Chinese silk, so although this piece has changed colour from a lemon to a primrose yellow, the skirt is missing and has been altered, it is nevertheless an interesting piece. The colour in the first photo is the truest, a warm yellow.
Cataloguing
Silk bodice hand painted with meandering boughs intertwined with green leafy stems, spiky leaves and small deep pink and puce star like flowers, between small flower and fruit sprigs, all on a primrose yellow silk taffetta ground, the deep scooped neck gathered with cord (not original) and edged with a muslin tape+, the long front opening with linen edging, elbow length sleeves, the back with square neck, three double rows of baleen stifening to the centre back, lined in linen.
Condition
+ we have added the muslin frill as it clearly was in evidence, but had been removed. The sleeves have been taken in, and there is fabric inside the sleeve, where you can see the original lemon colour. The front has clearly been extended with extra inserts of silk and linen at a later date. This would have been covered by a fichu. Clearly unpicked from the skirt.