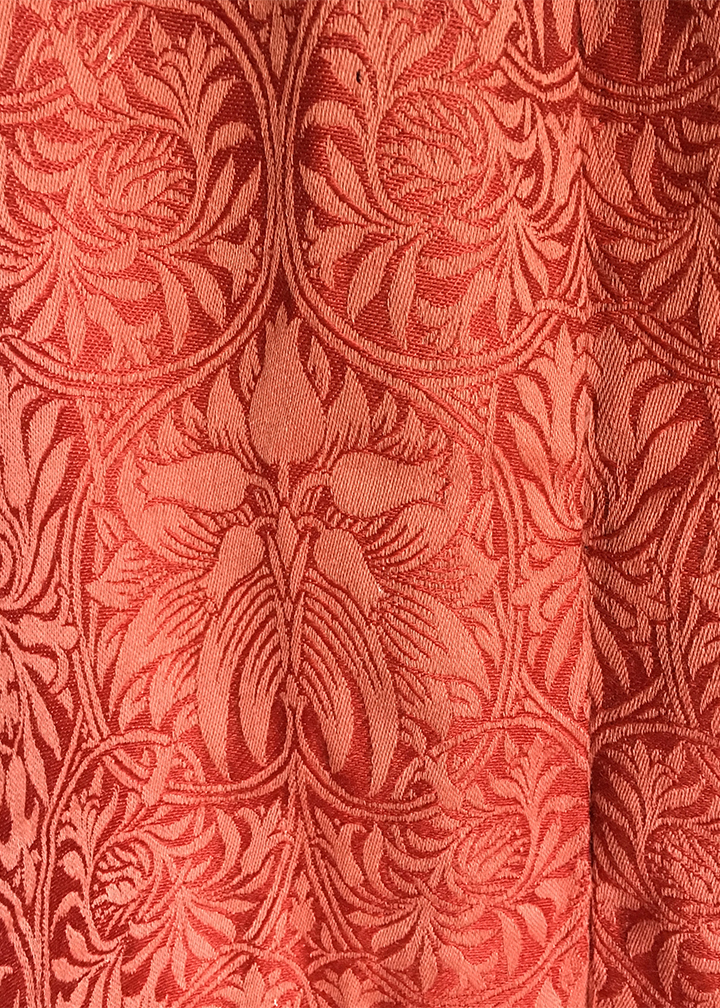 Mohair Damask
c 1918
Mohair Damask was designed by William Morris and registered 18 November 1876. Power loom jacquard wool and mohair woven by Dixon's of Bradford, Yorkshire. This design in a cotton version was called Crown Imperial. This is one of Morris' most formalised patterns, relying for its effect upon contrasting sheens of the damask.
I unpicked some curtains, which no one would have wanted to put up at their windows! The lengths have been professionally cleaned and I am now selling them as lengths. Once re made into curtains, the slight vertical fading lines would not show so much. One would be prepared to live with the slight fading for the joy of having some Morris curtains. The fabric is strong so could also be used for upholstery.
One length has the label Morris & Company Ltd, Upholsterrs. Church furnishers & Tapestry Restorers, 17 George St, Hanover Square, London W1. By Appointment. A similar label in Parry's book* shows this to date from c 1918. The shop in this location opened in 1917 and continued until the firm's liquidation in May 1940.
I have two similar lengths, all with one selvedge and one narrower length.
Cataloguing
The mohair and wool woven length with crown imperial flowers within coiling tendrils.
- 10 ft; 3.05 m long
51 in; 1.3 m wide. (The fabric was 54 in; 131 cm wide s to selvedge)
Vertical repeat 17 in; 43 cm
This drop is £400.
--------------
Lengh B - 9ft 3 in ; 2.8 m drop: 4ft 7 in; 1.21 m wide
Length C - 10 ft ; 3.05 m drop: 53 1/2 in; 1.36 m wide
Length E - 9ft 2 in; 2.8 m drop: 2ft; 60 cm wide
Length D - 8ft 6 in; 2.6 m drop; 2ft ; 60 cm wide. This has some holes so could be used for cushions, upholstery.
Prices for above vary.
Condition
When you look at the fabric folded under you realise they have changed colour from a pinky red to a more general red!
Length A has fading strips to its length, obviously where they have hung at a window. There is sun damage to the right hand side 2 in; 5 cm wide. This could be removed. The other lengths also have some feint faded stripes to their lengths.
There is a 3 cm diametrer hole and two very small holes below this. All could be disguised by using some of the left over fabric.
When the fabric is turned over the fading is much less. They could be hung this way. Do ask for more photos although I find they accentuate the fading!!
Comments
* William Morris Textiles Linda Parry p 218 ref 28
Price: on request
Ref N°: 8177 A