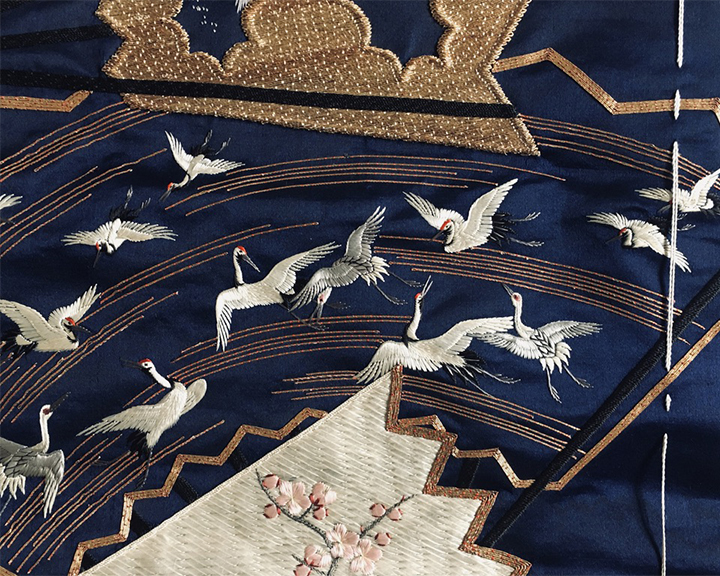 Japanese Fukusa
Last 1/4 18th c
In Japan gifts were placed on a lacquer tray under a lacquer frame, over which a fukusa was draped. The quality of the fukusa and the subject depending on the occasion. The practice of covering a gift became widespread during the Edo or Tokugawa period (1615-1867). The fukusa would then be returned to the sender, unless the recipient was of high office in which case he would keep the cloth. This form of gift giving was only carried out in Kyoto and Edo (Tokyo) amongst the educated elite.
In the Edo period textiles were an integral part of Japanese art, there being no division between fine and the decorative arts. To the educated of the period embroidery and painting were of equal importance. Painters designed fukusa and expected the embroider to create with stitches on fabric as pleasing a composition as that created by a brush on paper or silk. The embroidery of this fukusa would have been costly with its fine couched gold wrapped silk thread and raised work and variety of stitches.
This fukusa is outstanding , both in composition, design and quality of the embroidery. I think this may be a fukusa given to a couple for their wedding. Cranes are symbols of longevity. The Manchurian crane is a sacred bird that dwells on Horaisan, The Island of Everlasting Life. It is also a symbol used at weddings and birthdays. The large number of cranes on this fukusa represent "the thousand cranes" sent with a "thousand wishes" for long life and happiness. On the right hand fan Uba and Ju, characters from the Noh play Takasago, are depicted under pine trees. It is an auspicious story about a loving married couple.* The third open fan represents filial duty and depicts Moso, a dutiful son digging bamboo shoots in winter to take back to his sick mother. The plants show the The Three Friends of the Cold, pine, bamboo and plum blossoms., ume-take-matsu. These convey the wish for happiness , constancy and integrity and long life in the New Year.
Cataloguing
Three fans one with Uba and Jo, the later with long grey hair wearing a beautiful embroidered mauve kimono imitating tie dyed fabric, a broom in her hand, Uba also holding a broom wearing intricately embroidered kimono, in front of an oak tree, whose bark is covered with lichen, the fan all in gold wrapped silk couching, the edges slightly raised, the second fan with Moso holding a spade and wearing a large hat, in a bamboo landscape, the third fan with fifteen flying cranes, all with red crested heads, a fourth semi opened fan depicts prunus blossoms, further closed fans with exotic ends all on an indigo satin ground, using mid blue, pink, burgundy, pale green, yellow, brwon, ivory silk both floss and twisted, red crepe edge and backing, twisted silk huge basting threads, green and gold silk tassels to the four corners.
28 3/4 in x 27 1/2 in; 73 x 70 cm wide
Condition
Mint and unused. The red crepe edging has faded to a soft orange. The corner tassels seem to have a binding silk missing from each.
Comments
Fukusa by Mary V Hays and Ralph E Hays, p 56.
* https://en.wikipedia.org/wiki/Takasago_(play)
Price: £1,500 | $2,030 | €1,700
Ref N°: 8192