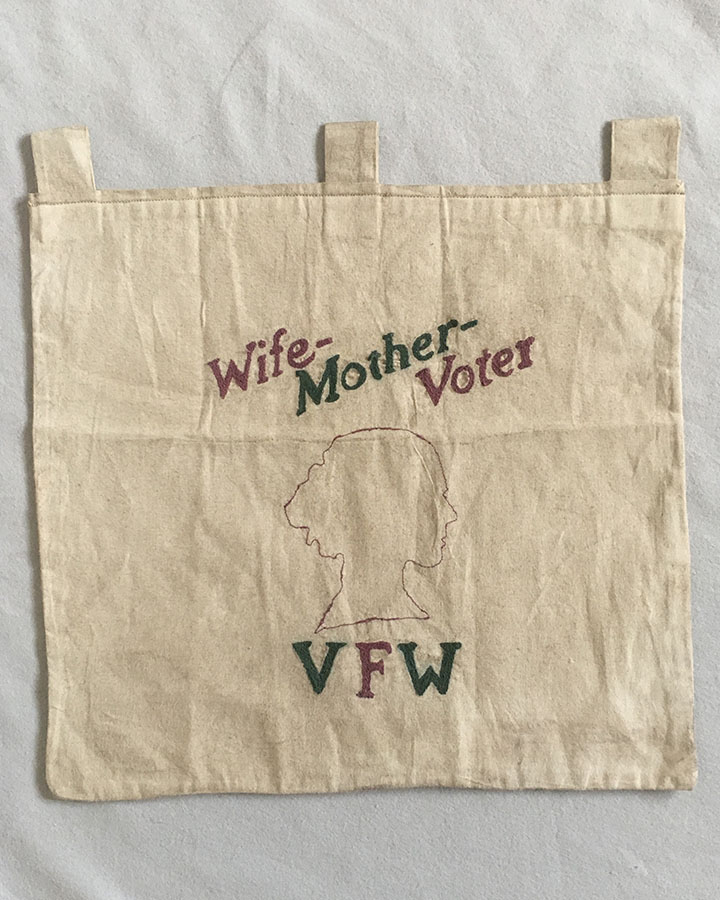 Suffragette Banner
1920s
One side of this rare banner has Red Cottage, W.G . This was the house at 126 High Road, Woodford Green, Essex rented by Sylvia Pankhurst (1882-1960) during the 1920s. Suffragette and political activist, daughter of Emmeline and sister of Christabel, all women's rights campaigners. The house was originally named Vine Cottage but renamed in honour of her left wing politics. It became a centre of radical thought, welcoming refugees and political campaigners. Sylvia lived in Red Cottage with her partner Silvio Corio, an Italian anarchist/painter/journalist who was fleeing the rise of fascism in Italy. The pair, who had a son, scandalised local society by never marrying and sheltered their political allies during their nine-year stay at the address. She was living in Red Cottage when Parliament passed a 1928 Act giving all women in the United Kingdom the right to vote once they turned 21. The site of the Red House has recently been developed and named Highbeam House.
Sylvia organised spectacular demonstrations, rallies and marches all over Britain. Opposed to the use of violence, she set up the East London Federation of Suffragettes, when her sister Christobel ordered members of the Women's Social and Political Union (WSPU), of which she was a member, to use violence. Men were invited to join the Federation. Sylvia was imprisoned many times and force fed in Holloway Prison.
Sylvia trained at the Manchester Municipal School of Art and the Royal College of Art, London. She used her artistic skills to further the cause by designing badges and banners.
Suffragettes – purple for dignity; white for purity and green for hope.
Cataloguing
The natural cotton ground embroidered on one side with Wife - Mother - Voter, in purple and green cotton, above an outline face of Sylvia ? above VFW (Votes for Women), the other side with Red Cottage. W.G. embroidered in purple at lower left.
13 3/4 x 14 1/2 in; 35 x 37 cm wide + 1 1/2 in; 3.5 cm tabs.
Condition
A textile conservator suggested I use a conservtor's smoke sponge on the banner. I have done and it is amazing how much dirt has been lifted. I am waiting for the new photos to be made and to be included on the website. If you are interested you can always e mail me and I will send these.
Comments
* http://www.sylviapankhurst.com
www.ilfordrecorder.co.uk/sylvia-pankhurst
Price: on request