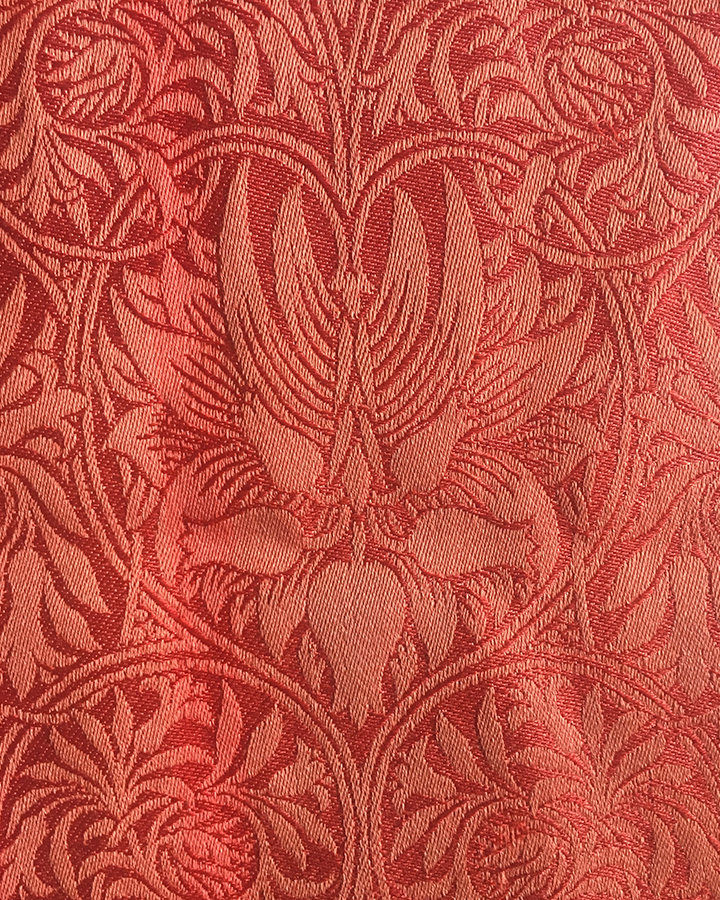 Mohair Damask
1917
Mohair Damask was designed by William Morris and registered 18 November 1876. Power loom jacquard woven mohair and wool by Dixon of Bradford, Yorkshire. A popular design it continued to be produced into twentieth century. This design in a cotton version was called Crown Imperial.
I had some curtain lengths sold a while ago, which had the label Morris & Company Ltd, Upholsterrs. Church furnishers & Tapestry Restorers, 17 George St, Hanover Square, London W1. By Appointment. A similar label in Parry's book* shows this to date from c 1918. The shop in this location opened in 1917 and continued until the firm's liquidation in May 1940. A few smaller pieces have now become available.
These pieces have slight fading stripes. You might not mind this and could make this piece into a cushion cover. There is also a photo of the reverse. This is in very good condition, and you may like to use this for the main side.
Cataloguing
Woven mohair and wool in red.
22 x 22 in; 57 x 57 cm. I have only measured down to, and not included, the fold line at the bottom.
I have another piece same size and two long narrow strips 4ft 6 in x 14 in; 1.35 x 26 cm. Ask for photos and details.
Condition
This has been professionally cleaned. 3 vertical faded strips whcih you should be able to clearly see. They are much feinter on the reverse side.
Comments
* William Morris Textiles Linda Parry p 218 ref 28
Price: £55 | $70 | €60