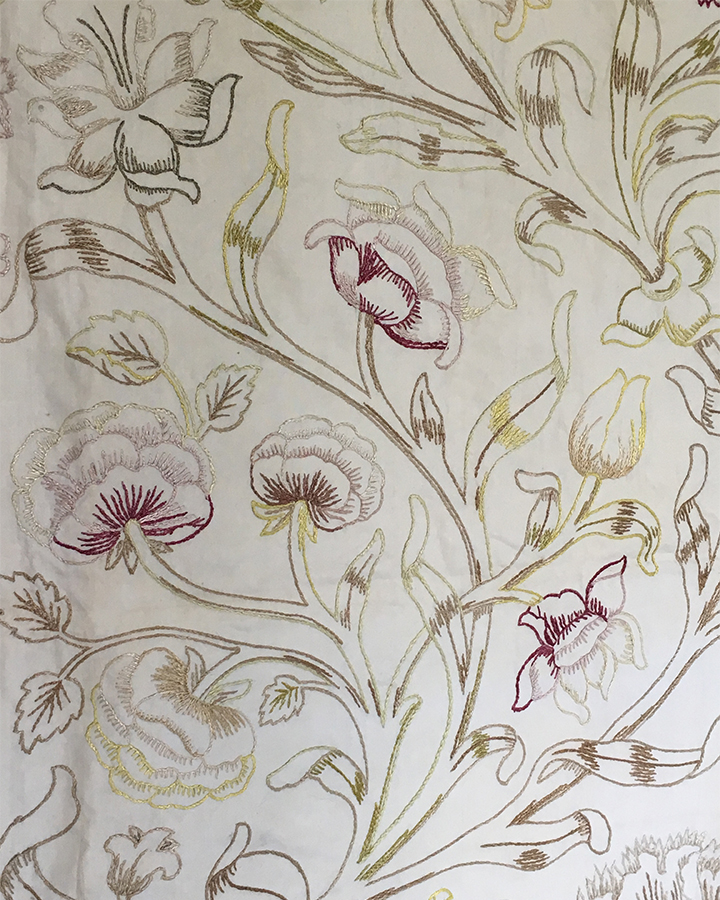 SOLD
Leek Embroidered Panel
1880s
Thomas Wardle of Leek printed the cotton ground with a single colour outline and provided the skeins of Art Silks, which he had specially dyed, ready for the amateur embroideress. These pieces were sold in Liberty's of Regent Street, It has not yet been discovered who the designer was. The design was based on a 17th c diagonal meander silk and velvet textiles.
Cataloguing
the cotton ground with upright meandering branches filled with a variety of flowers including peonies, tulips, carnations and daffodils, outline embroidered in twisted silks in pastel polychrome palette, including yellow, softr mauve and magenta, beige and taupe, the edges bound in blanket stitch.
4ft 1 in x 3 ft wide
1.25m x 90 cm wide
Condition
There is a light yellow stain 3 x 5 cm the the lower left hand side. There is a mid brown stain to the hem again on the left hand side and a smaller one on the right hand hem. There is a watermark which is very very feint to the middle left hand side. 16 x 8 in; 40 x 20 cm. One can hardly see this and when hung does not show. Or if used for centre of bedhanging again it would hardly show. Ask for photos.
Comments
In Liberty's 1875-1975 it states that Liberty's greatest triumph in those early days came from a co-operation with Thomas Wardle, the dyers and printers of Leek in Staffordshire, who also worked for William Morris. Between them, Liberty and Wardle introduced dyes which had until then been supposed to be a closely guarded secret of the East....delicate pastel tints which they called 'Art Colours', and that became described all over the world as 'Liberty colours.' Silks in Liberty colours were an influential element in the Aesthetic Movement. Liberty's windows became one of the sites of Regent Street...a revelation to a generation accustomed to the harsh colours of aniline dyes.... The blocks appear to have been 18 x 16 in.
The pattern repeat is 27 in 69 cm drop.
For similar:
Liberty's 1875-1975 Victoria & Albert Museum exhibition catalogue p 37 no C11A ;
Morris, Barbara Liberty Designs 57;
King, Brenda M Silk and Empire
King, Brenda M Dye, Print, Stitch. Textiles by Thomas and Elizabeth Wardle. p 40 for similar piece