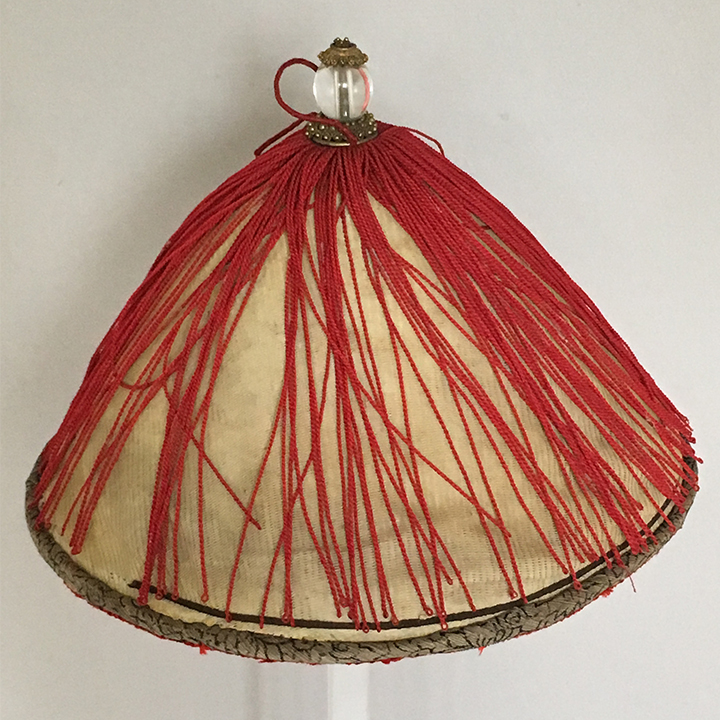 Chinese Hat
19th c
A mandarin's summer hat worn on official business. The knop was one way of identifying the rank of the mandarin. There were nine ranks and the crystal or clear glass knop was worn by a fifth ranking official. Originally the round knop or mandarin button was made in precious stones, introduced by the Yongzheng Emperor in 1727 but by 1730 new rules allowed semi precious stones to be used, which were still highly prized.
Perhaps this would be good for a designer or a collector if you did not mind the condition.
Cataloguing
The cone shape straw hat covered in a fine rich clotted cream silk gauze, with scarlet twisted tassels falling from a clear crystal and brass beaded knop and green onyx holder, edged with gold and black brocade, lined with fine scarlet silk.
Condition
Not great. The onyx holder which held a peacock feather is broken. There are holes to the outside under the tassels. The dark brown braid above the brocade at rim is missing in parts. The red lining is very holey. Ask for detailed photos.
Price: £150 | $200 | €170
Ref N°: 700