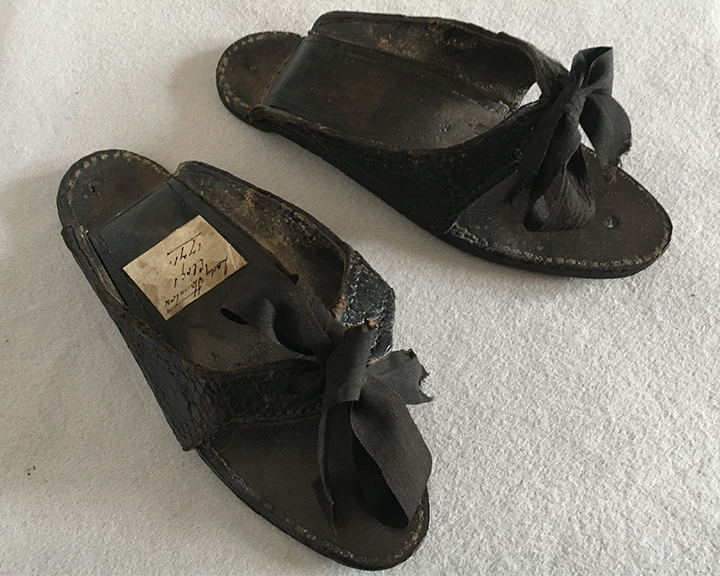 Lady Staunton's Pattens
1771
These pattens or clog overshoes have a paper label with Lady Staunton 1771 glued to the leather insole. Either she had very small feet or these were used by her as a child. In the portrait of her she does look quite petit. Lady Staunton married in this year.
Lady Staunton, nee Jane Collins of Milford, Wiltshire (1752-1823) married Sir George Leonard Staunton, 1st Baronet Staunton (1737-1801) in 1771. They had one child George Thomas who can be seen in the portrait. Her husband is best known for accompanying Lord Macartney on the first diplomatic mission to China in 1793 to meet the Qianlong Emperor. Staunton's son accompanied the mission as a page because he spoke Chinese. Read more about the fascinating expedition in: wikipedia.org/wiki/Macartney_Embassy
The Worshipful Company of Pattenmakers is a City of London Livery Company which was awarded a Royal Charter in 1670. It was first recorded as a trade association for the makers of pattens in 1379, the trade itself dates from the 12th century or earlier.

Today the Pattenmakers' Charitable Foundation has developed a new role in funding the design and bespoke fabrication of orthopaedic shoes, particularly for the UK's injured servicemen.This year the Company celebrates the Tercentenary of receiving its Livery - awarded during the reign of George 1st in 1717.



Pattens were under-shoes designed to be worn outdoors and to lift the wearers and their silk fabric shoes above the mud and grime of 18th century dirt streets.




Cataloguing
Of black leather, the latchets tied with silk ribbons, rounded toes, the heel dropping down, leather soles.
7 1/2 in; 9 cm long
Condition
You can probably see the condition. The leather is quite scuffed and worn.
Comments
All the books below show fabric covered overshoes but not all leather examples.
Shoes. An Illustrated History. Rebecca Shawcross p 73
Shoes. Lucy Pratt & Linda Woolley p 43
Shoes and Slippers from Snowshill. Althea Mackenzie p 10
The Seductive Shoe. Jonathan Walford p 31 for similar.
Portrait by John Hoppner (1758-1810) School for African and Oriental Studies, SOAS, London University.
Price: £850 | $1,150 | €960
Ref N°: 829