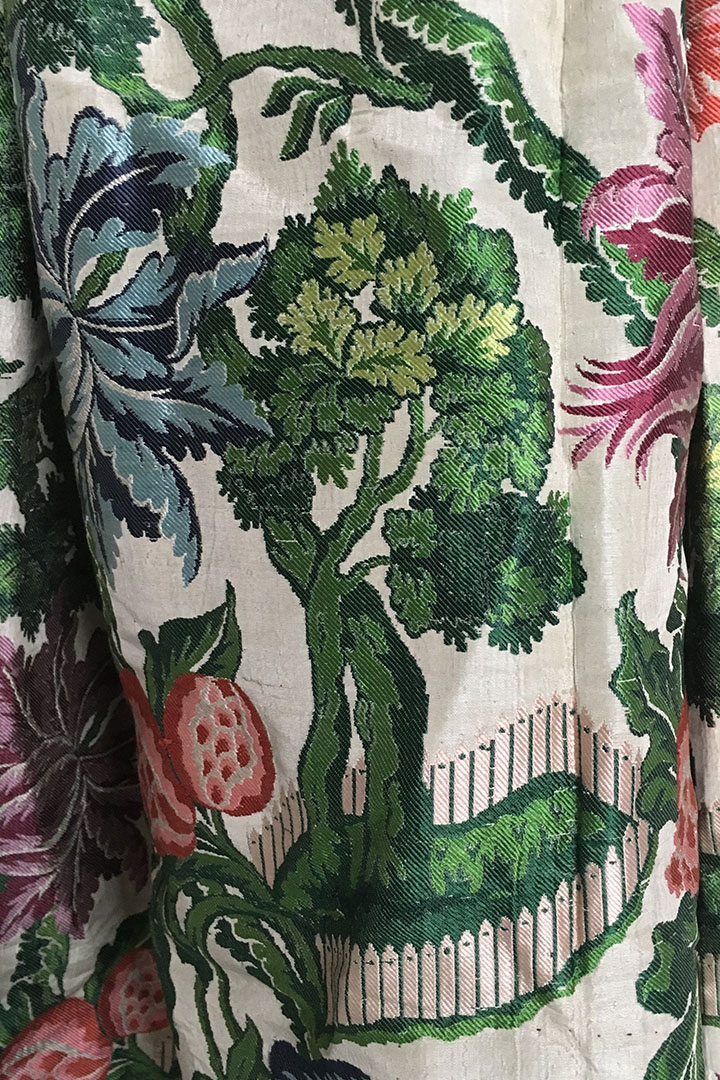 Probably Anna Maria Garthwaite
Silk 1733-5. Robe 1750s
Naturally when I bought this wonderful gown I consulted V & A curator Lesley Miller and Anna Jolly at the Abegg, Switzerland, both leading experts in eighteenth century silk. I am most grateful for their assistance. They both confirmed my thoughts on the silk which is English and woven in Spitalfields. Because we cannot find an exact copy of the design of the silk, the academics will not say it was definately designed by Anna Maria Garthwaite, just probably designed by her. This is so often the case with textiles when the original designs cannot be found.
The naturalistic design with large flowers and fruit can be seen on 1730s silks. Trees on islands appear on other Anna Maria Garthwaite designs around 1734*. I cannot find any other designs with a wicket fence. The French were the first to produce designs with similar designs, but Spitalfields were quick to copy. The one pattern repeat across the width of the silk indicates an English manufacturer, as does the narrow silk 19 1/2 in; 50 cm. French silk was woven on wider looms. The interlocking colours suggest shading, are also usual at this period. The fabric would have been drawloom woven with the weaver making a yard (36 inches) or 90 cm a day. This may well have originally been a mantua or a sack back gown altered in the 1750s. In the 1770s tape ties were added in the skirt to make it into a polonaise gown. The silk brocade would have been very expensive and early 18th century gowns were nearly always altered at later dates to make them fashionable for the later period.
There is very little known about Anna Maria Garthwaite (1689/90-1763). The information below comes from Natalie Rothstein's book** Anna Maria was the daughter of the Rev Ephraim Garthwaite of Grantham, Lincolnshire and his wife Rejoyce Hansted. She lived with her family until her father died when she was 36. Parson's daughers and wives had no income or home when their fathers died. She moved to Spofforth, near York with her married sister Mary, who gave her a home. Anna Maria had no training as a designer, and despite considerable research by Natalie Rothstein, it is not known how she learned to draw so competently, nor where she learned the technical skills to design for a drawloom. Perhaps she was naturally gifted at drawing and was quick to learn the techniques for making the drawing suitable for the weaver. Presumably she needed to make a living to support herself and possibly her sister. It is known that she was designing whilst in Yorkshire. When Mary's husband died, Anna Maria and her sister moved to London around 1729, when she was 40, and lived in Spitaflields until her death. As a freelance designer she produced eighty designs a year, almost entirely for dress silks. Her nephew Vincent Bacon was an apothecary and surgeon with a practice in Spitalfields. He was also a naturalist and with a shared interest, together must have discussed and looked at drawings and specimens, which Anna Maria would have copied and been influenced by. Botanical styles became fashionable in the 1740s, and Anna Maria's choice of unusual flowers suggest she may have known Peter and James Collinson. They were merchants trading with America, particularly in textiles, but had an important garden in Mill Hill which Anna Maria might have visited for inspiration.
The robe was bought in Carlisle in the north of England. Unfortunatley there is no provenance.
Cataloguing
A Spitalfields silk brocade open robe, the silk almost certainly designed by Anna Maria Garthwaite, with a large repeat design of two interlocking oak? trees growing from a grassy mound with a pale pink wicket fence surround, huge shaded blue and purple parrot tulips some with extended trumpets, vermillion paeonies bursting with seeds and a smaller red flower, all amongst brillant green foliage on an ivory silk ground.
The robings trimmed with narrow green and ivory scalloped braid, below elbow sleeves with deep cuffs, similarly trimmed 4 in; 10 cm, with a bow to the front, the back with pleating flaring out into the full skirt, the bodice lined with linen with original attached ties to the front, to be worn with a stomacher, the robings lined with later silk, the skirt with deep hem lined in mid green fine silk,
Shoulder to hem 57 in; 1.4 m
Hem width 7ft 11 in; 2.4 m.
The silk width 19 1/2 in; almost 50 cm with selvedges.
Pattern repeat 2ft; 62 cm drop. The width of the fabric has two of the same trees but with a different colour tulip, so one pattern the whole width of the silk.
Condition
The robe has been altered in the 1750s from the original mid 1730s. This was quite common during the eighteenth century because the silk was of course expensive .The pattern of the robings has been cut upside down! The pleats at the front skirt sides are coming away and need a few stitches. The top of the skirt has a horizontal seam 1 1/2 in; 4 cm down from top skirt. The very back panel has a horizontal join at the bottom to extend the length, to match the other lengths.There is a small spot of light brown to the right sleeve front and a little split nearby.
Comments
*Peter Thornton Baroque and Rococo Silks. See 65A & 65b dated 1734 and 66A p 174. The last two have wicket fences surrounding the grassy hillock.
** Silk Designs of the Eighteenth Century. Natalie Rothstein. V & A plate 95,109,116,119 and p 33-36.
The Abegg-Stiftung's Collection of Naturalistic Silk Textiles. Anna Jolly. See: Naturalismus of 2002, pp. 375-378.
http://collections.vam.ac.uk/item/O71872/mantua-unknown
Similar in Prints & Drawings Study Room, level C, case T, shelf 16, box A. 5971:22
https://hampshireculturaltrust.org.uk/content/how-designs-date-silk
Silk Designs of the Eighteenth Century. Clare Browne
Price: on request