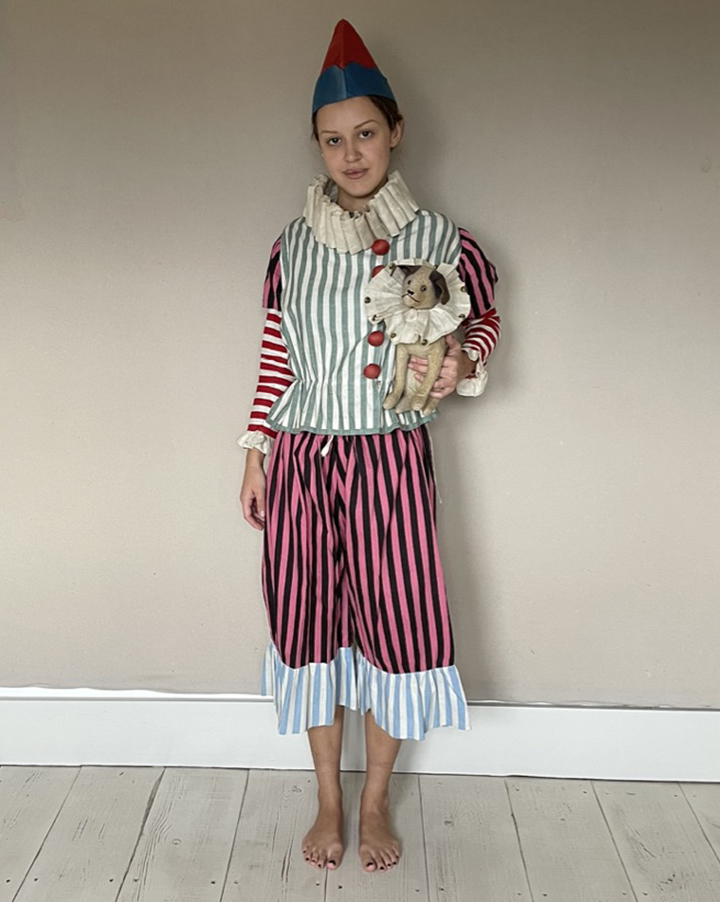 Mr Punch & Toby
1940s
Pulcinella is part of British seaside culture. The various episodes of Punch and Judy are performed in the spirit of outrageous comedy—often provoking shocked laughter by his clowning and misdeeds. The Punch and Judy show has roots in the 16th-century Italian commedia dell'arte. The figure of Punch is derived from the Neapolitan stock character of Pulcinella which was anglicized to Punchinello.
This outfit is such fun, particularly as Toby also has a ruff. I do not know on what occasion this was worn. Any ideas? It has been impossible to dress the mannequin with the hump and hat so you will have to use your imaginations!
Cataloguing
Toby the dog, with glass eyes, embroidered nose and mouth, fabric ears and painted patches, with a cotton ruff sewn with bells.
Mr Punch's with a jacket of green and white striped cotton, opening to the front with large red fabric buttons, the back with a slit to accomodate the hump, pink and black puff sleeves over red and white striped lower sleeve, cuffs of cotton, similar to Toby's. The trousers of rich pink and black cotton stripe with blue and white gathered frill. His red hat with a bell and the hump of padded cotton.
Trousers 28 in; 70 cm long
Condition
Very good. The elastic is missing from the trousers. The adult ruff has been professionally made as the band structure is so well done, although the construction of the ruff is crude.
Price: £500 | $710 | €580
Reduced to: £425 / $600
Ref N°: 846