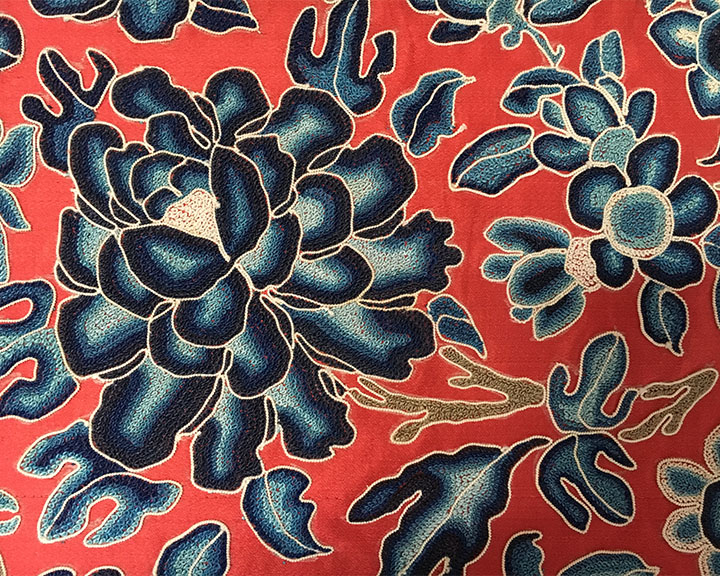 Chinese Uncut Skirt
Late 19th c
I have seen uncut robes but never a skirt. Beautiful embroidery. I have some diagrams which would show the placing of the embroidered motifs on the skirt panels, so do ask if you are interested.
The length of the piece would create 3 skirt lengths of 85 cm each 75 cm wide.

This would then create 225 cm of textile going around the body.

Everything is paired although the thin lengths each have variations in their embroidery.

The thin lengths are approx. 8.5 cm wide, part of which would be folded to create a pleat.

Black silk is also used in between the pleats on a number of skirts.
Cataloguing
The scarlet satin ground embroidered with Pekin knot silks in three shades of blue and outlined in white silk in a seed stitch, the central skirt front and back panels with peonies and other flowers, their stems in palest green, flower strips for the skirt's gores.
8ft 5 in x 29 1/2 in; 2.56m x 75 cm selvedge to selvedge.
Condition
Unused. One end has a minor little finger nail size lighter spot and there is a blackish mark to the same end on the top side. Photos available.
Price: £490 | $660 | €550
Ref N°: 831