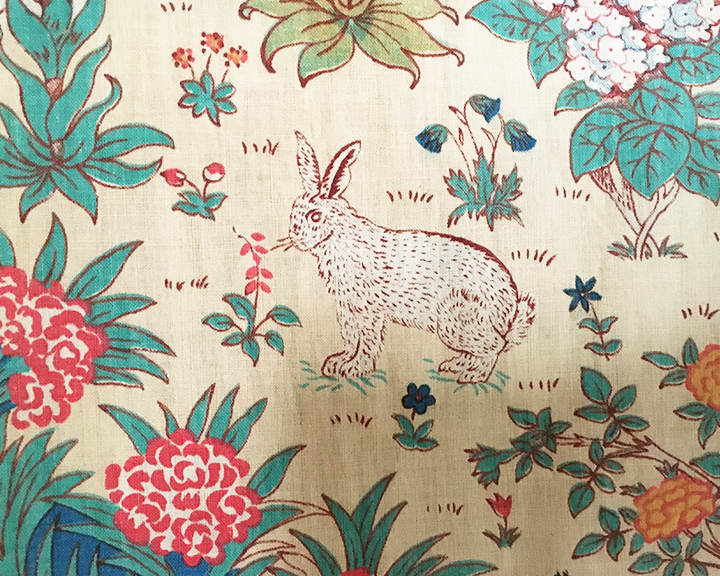 SOLD
Sidney Mawson
1920s
Sidney G Mawson (1876-1941) was a very successful designer by changing his style to suit fashion and the individual tastes of manufacturers. He designed for weaver A H Lee, and for printers Thomas Wardle, Foxton's, Turnbull and Stockdale, G P & J Baker, Warner & Sons, Alexander Morton and Morton Sundour, who sold through Liberty's. Pleasaunce was Morton Sundour's most popular design in 1907. Previously he had taught textile design at the Slade School of Art and was a landscape painter. He also designed wallpapers for Jeffrey & Sons.
Cataloguing
An English garden with pergolas, and urns, a variety of flowering trees including roses, flowers including lillieshorned poppies, peacocks and rabbits, all in bright clear shades of red, blue, green, yellow, blue and mauve, on a natural coloured cotton ground.
36 x 35 in; 92 x 88 cm selvedge to selvedge
Another similar piece.
5ft 5 in x 2ft 2 in; 1.65 x 67 cm
Condition
Both pieces are in very good conditon.
The first square piece is £ 145. The background shade of this piece is slightly lighter. SOLD
The second piece is £ 200
Comments
Three Generations in a Family Textile Firm by Jocelyn Morton p 170
Textiles of the Arts & Crafts Movement by Linda Parry p 135