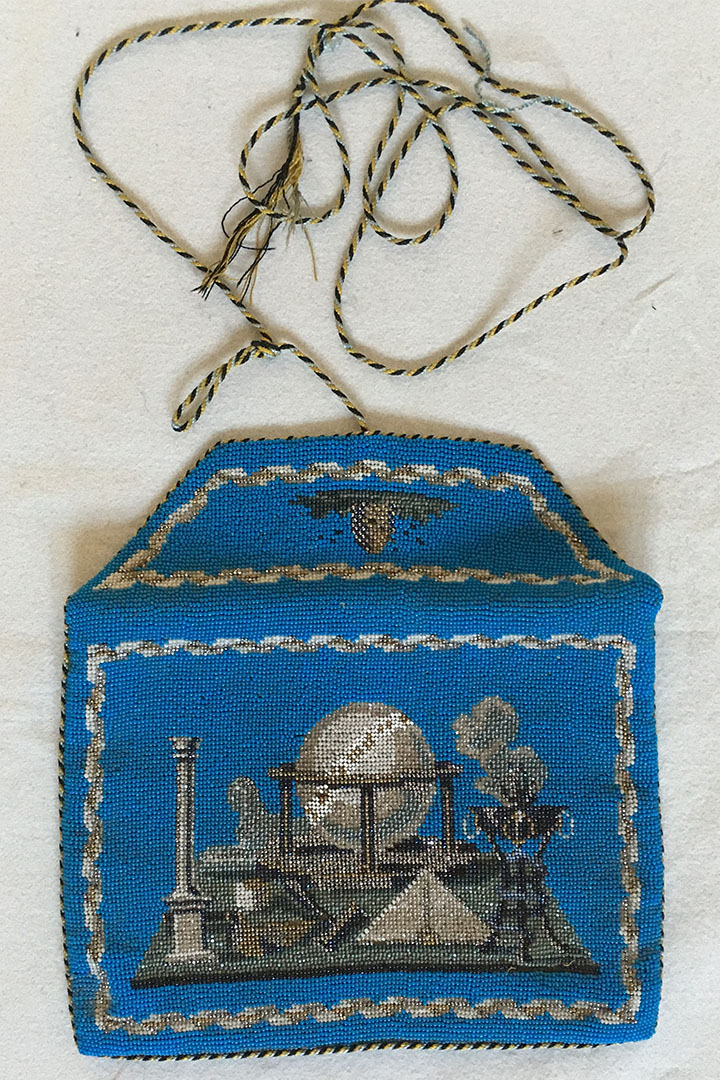 German Masonic Purse
1850-60
I contacted the London Masonic and the curator kindly gave me this information. This is a continental European apron pouch, probably German. Masonic aprons in Europe were very often quite small and made of silk. They thus folded up easily and ornamental pouches were often created to store and transport them. The initials will be those of the owner. The flap has the beehive representing industry and the front a combination of masonic imagery including stonemasons tools. The sphinx symbolises freemasonry's origin in antiquity. Except that it actually starts in the 1600s and doesn't become an organised body until 1717! Legendary history is very important to freemasons.
In the purse is another small piece of very similar beadwork . On the reverse it says Dichtungen und profaftude . Vendor said it had Slovenian origin.
Cataloguing
one side with Masonic iconography with a pillar, a syphinx, pyramid, a torchere and a globe, all worked en grisaille with small clear and opaque white and black beads, cut steel and brass beads, on a green beaded ground, surrounded by mid blue beads, a ribbon effect narrow border, the other side with a flap with a beehive above the initials TK on a blue ground with gold beaded trefoils, similar ribbon effect border, opening to reveal a leather lined interior, all edged with cord in blue, black and yellow.
5 1/2 x 7 in; 14 x 18 cm.
A smaller panel inside worked with roses
Condition
Excellent
Price: on request
Ref N°: 848