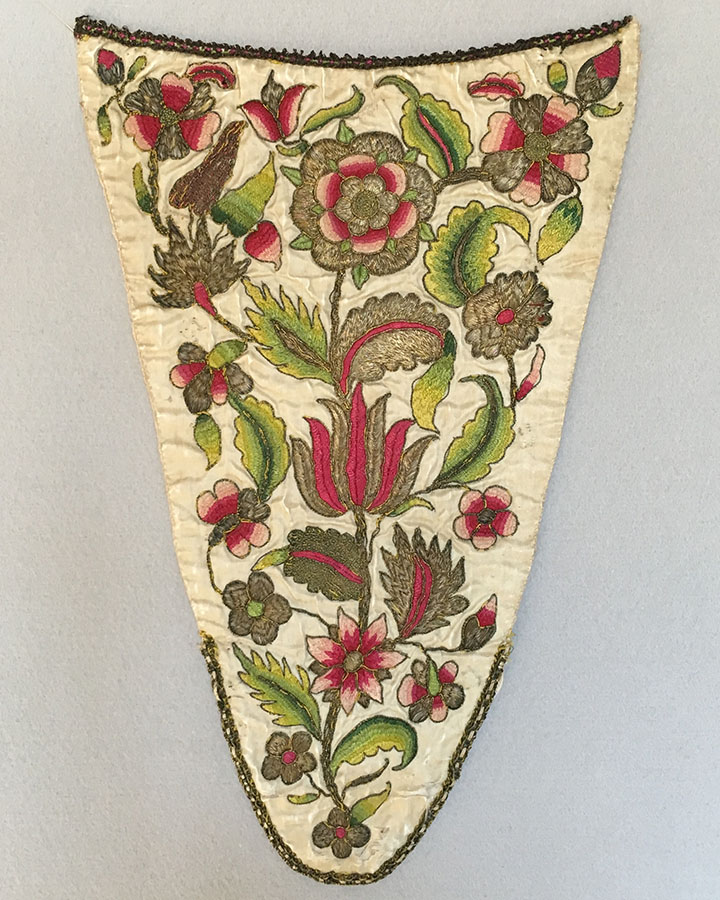 Embroidered Stomacher
1740s
Stomachers are rare. This is a particularly lovely one.
Cataloguing
the ivory satin ground embroidered with a tudor rose and other flowers in three shades of silk, from fushia to palest pink, and couched with gold wrapped silk thread in two thicknesses, some bound in fushia and green silks, some with patterns in the leaves, the leaves in two mid and lime green and yellow, the top edge and lower curve edged with looped gold thread interspersed with silks, the back in a fine ribbed ivory silk, 12 x 9 in or 30 x 20 cm.
Condition
Very good. No tarnishing and no wear to the silks or gold thread. The background silk has pinprick holes down the sides,which you should be able to see from the photos. Clearly this was from when the stomacher was pinned to the dress. Above the rose there are a few threads which need to be unpicked. They appear to have been sewn from behind for no apparant reason! Easily removed. These need to be removed.
Comments
Hart, Avril & North, Susan Historical Fashion in Detail

The 17th and 18th Centuries p 200
Baumgarten, Linda What Clothes Reveal p 115
Rushton, Pauline 18th Century Costume p 8
Kyoto Costume Institute Fashion p 44-47
Price: £2,000 | $2,700 | €2,260