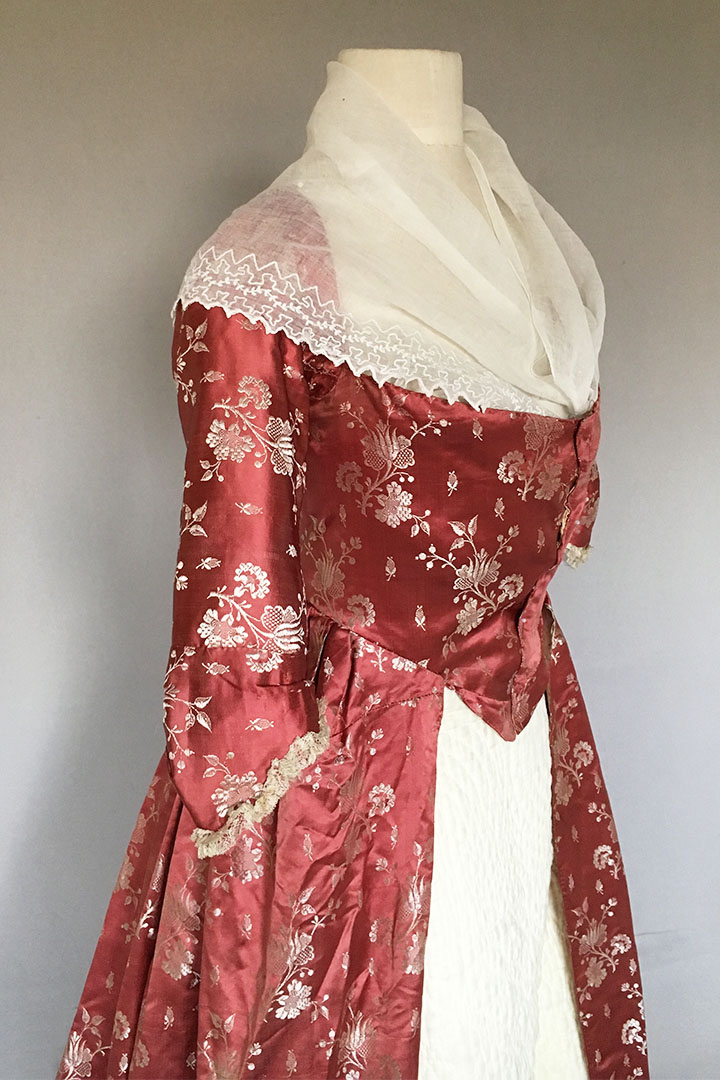 Polanaise gown
1775-80
Beautiful colour silk brocade, woven in England. The colour in the close up is the most accurate, a pink/crimson. By candlelight the white flowers would have appeared silver. The flowers are woven with different fillings, imitating lace fillings. Unusually the inside skirt has three small tape loops either side. This was to thread the long hanging tape through them to pull the back skirt into a polonaise. Usually there is just one loop each side.
Cataloguing
the pinky crimson silk brocade woven with white flower sprigs, the large square neck with square front opening, front fastening with elongated curves, the back bodice stiffened with two central bones, with inward vertical seams down to the pointed lower waist, the skirt pleated and trained, the below elbow sleeves with blonde lace trim, the bodice lined with linen, the skirt with four pairs of small linen tape loops to loop the skirt into a polonaise.
Bust 36 in; 93 cm.
Front shoulder to hem 57 in; 1.45 m; Back shoulder to hem 65 in; 1.67 m
Silk 19 1/2 in; 50 cm selvedge to selvedge
Condition
Very good. The skirt has a horizontal join 5 in; 13 cm from the waistline but this is original. You see this very often in 18th c gowns. The expensive silk was used economically. As you look at the gown, under the arm is a little patch. Probably the silk tore and a new piece has been inserted. Photos available of the inside of the gown.
Comments
Costume in Detail Nancy Bradfield p 61 and 63
Price: £1,500 | $2,030 | €1,700
Ref N°: 843