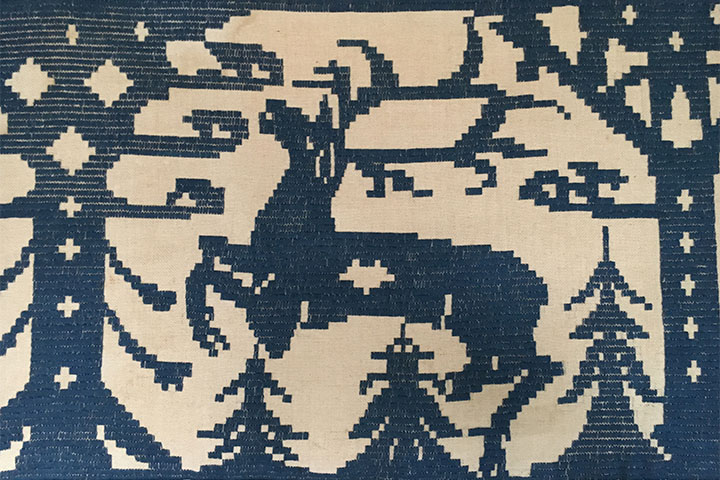 SOLD
Swedish Banner
1917
Women! Give with pure hands the rich gifts of goodness and righteousness! Ann-Margret Holmgren. During the 1st World War middle class women, such as Ann-Margret , raised money which they distributed to the poor and hungry. It is felt this banner was embroidered for perhaps a large fund raising meeting.
Ann-Margret Holmgren nee Tersmeden (1850-1940) was a Swedish writer and pacifist. As a feminist, Holmgren caused considerable controversy by her support for love and sex outside of marriage. She was a member of the Swedish Women's Peace Association, honorary member of the Nordic Museum and the Philochoros Society (Folk Dance). Holmgren was one of the founders of the Svenska Kvinnors Medborgarförbund (Citizen Society of Swedish Women) in 1921, the year women were given the vote.
Cataloguing
The centre with Kvinnor! /Given Med Rena/Hander Godhetens/Och Rattradighens/Rika Skanker! 1917 embroidered with a simple upright stitch in dark blue cotton on a natural coarse cotton ground, all within angular arches, the sides with pairs of prancing stags flanking a stylised tree, small fir trees below.
3.16 x 49cm.
Condition
The embroidery is all in very good condtion. The centre panel has a few light brown markings and there is a water mark to the lower right hand side under the surname. Looking at the right hand side, there is a light brown stain between the horns of the left hand stag 4 x 5 cm.
Comments
https://en.wikipedia.org/wiki/Ann-Margret_Holmgren