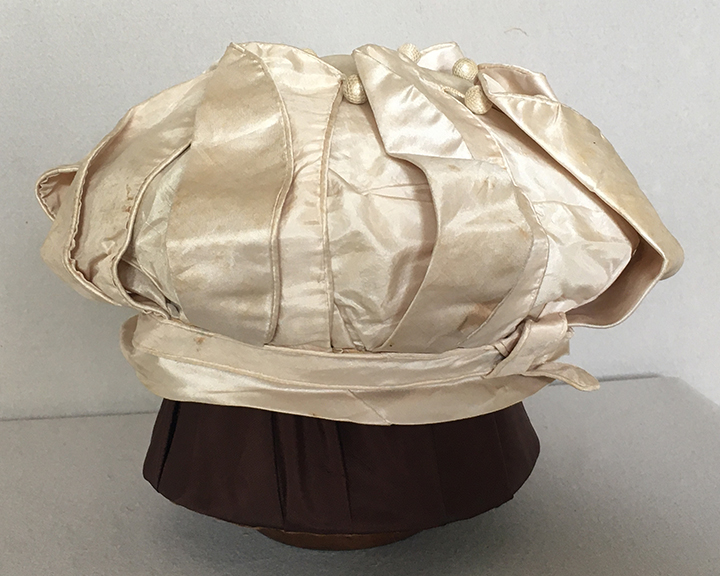 Rare Regency Beret
c 1810-20
This is fantastic and very rare, for evening wear. Amazingly all the small netted balls are there! Sorry no provenance. 1820s dresses have similar rouleau trimmed lappets .......
Cataloguing
The slightly pinky/cream silk with very small brim, a piped rouleau edge band looped over at the centre front, all above a very narrow brim, the full crown with nine rounded tabs rising from the band, each folded back to reveal satin on the underside, caught at the crown and with netted ball decoration, a further ball to the centre. lined with muslin and a straw plaited stiffener under the muslin.
Condition
Really in remarkable condition considering its age. No tears of missing pieces. The brim has a couple of small light brown markings. Looking at the front, to the right (as you look at the beret) look at the first tab. At the base there is a mark 2.5 x 1 cm. A further couple of small marks further up the same tab. Most of the tabs have a slight amount of light brown marking. Ask for photos.
Comments
* Hats. Fiona Clark p 25
http://www.mfa.org/collections/object/bonnet-120482 date it to 1790-1810
Price: on request
Ref N°: 858