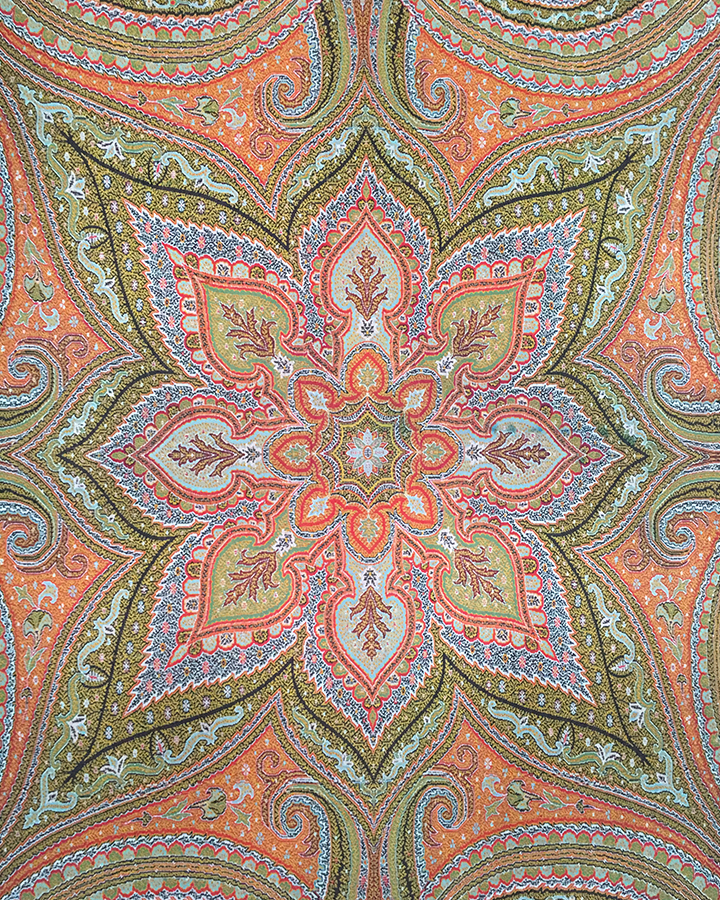 SOLD
Fortier & Maillard Square
1850s
After 1851 when Fortier and Maillard became partners at 36 Rue Neuve-Sainte Eustache, Paris, they wove their initials into the four corners of their shawls. They were liquidated in 1859 with Fortier dying the following year. They wove shawls of exceptional design and quality and were awarded many gold medals at major exhibitions. They often used wool from a new breed of sheep, belonging to M Graux de Mauchamps, which was superior to the Dresden wool and very like pure cashmere. I believe this shawl, which is very soft is woven in this wool. Square woven shawls are fairly unusual.
There is no mention of F & M at the 1851 Great Exhibition, but at the Paris World's Fair in 1855 they were awarded a first-class medal Their workmanship is remarkable for its regularity and they are perfectionists in terms of their attention to detail .... their exceptional texture and feel, which are due primarily to the beauty of the yarn they employ. The company was liquidated in 1859.
Cataloguing
The central star motif surrounded by large quarter circles filled with and surrounded by Eastern inspired motifs, the border with upright palmettes and cusped motifs, two sides with epaulette border of scarlet, mid green, ochre, black and ivory sections similarly filled, the four corners with the initials F M wool and silk, short fringe.
6ft 3 in;1.9 m square
Condition
Excellent. One tiny hole which you can see when you hold the shawl to the light.
Comments
Cashmere French Passion 1800-1880 Monique Levi Strauss p 185-195.