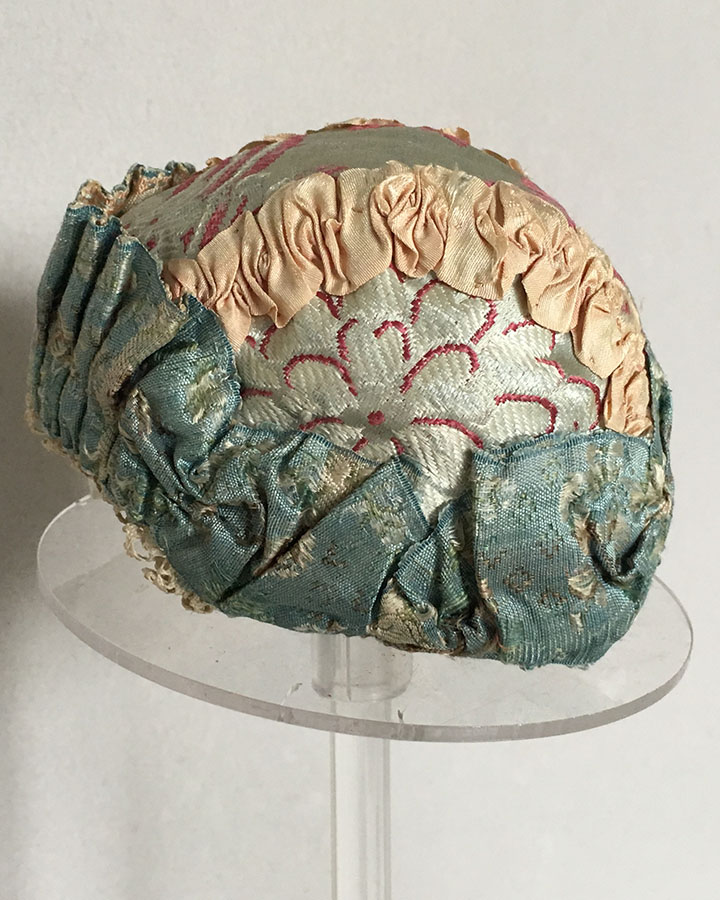 SOLD
Brocade Baby Cap
1720s
This must of been for a small newly born baby and would make an unusual present for a new baby. It could also be worn by a large doll. Fragments of much loved brocades were used, probably remanents from gowns.
The front standing pleats called a fontage or frelange, are reminiscent of European woman's high headdress popular during the turn of the late 17th and early 18th centuries . You can see these in paper prints of the time.
The Dutch woven check lining Harlingen bont, is typical of the period and probably woven at Harlingen. During the 18th century, manufacturers in Harlingen, a small but important port on the inner sea in Friesland, were copying the imported Indian cotton simple check fabrics, but in both linen/cotton mix and in linen. They were exporting the fabric to the Dutch East Indies for slave trade apparal. The town was the centre of production in the Netherlands for this fabric. We have had a few other garments with similar lining.
Most 18th century jackets in Friesland are lined with similar linen. The colors are white, blue, beige and sometimes green, always rather faded, never bright. These linens must have been woven in Harlingen, but unfortunately there are no sample books of the mills to prove this statement.*
The word bont has a number of meanings in Dutch including fur and colourful but the word is used mainly for fabrics with checks. In Harlingen in the 17th and 18 th centuries a wonderful linen woven fabric was manufactured. Bont, a sort of bombazine, had a linen warp and cotton weft, woven in checks and stripes. It was also woven in linen. This fabric had a good reputation due to its cost, strength and fine appearance.



The production of Harlinger bont was done in the weavers and dyers own homes. The blue linen threads were dyed before weaving, the dyed thread rinsed in clean water to remove surplus dye.The rinsing took place in a large tub where the barefoot dyers stamped on the thread removing the excess dye. From then on the people of Harlingen were known as tobbedansers tubdancers.


In a tax register of 1749 it states that there were also female tubdancers .

Gouke Sybrand Hingst (1716 - 1788 ) was the founder of the firm Gouke Sybrands Hingst & Son, producers of bont and trouser stripes. In 1740 of the 7,000 inhabitants of Harlingen almost 900 were weavers
Cataloguing
The three sections of 18th century brocade in raspberry and silver colour on the palest eau de nil ground, the front with standing pleats, with apricot riuched ribbon applied in two bands from front to back, edged with a wide blue and silver brocade ribbon, the background small diamonds, edged with a needlelace (19th century), lined in blue and white linen check.
Inside circumference 13 in; 34 cm
Condition
Very very good. I suppose it might have been worn only a few times. When you part the blue ribbon from the brocade you can see that the apricot one was much brighter, Linen thread has been used to stitch down the apricot ribbon. You will see it has been crudely stitched, which was so common in eighteenth cetnury dress.
Comments
*Gieneke Arnolli, Curator Fashion and Textiles of the Fries Museum, Leeuwarden, Holland kindly gave this information.