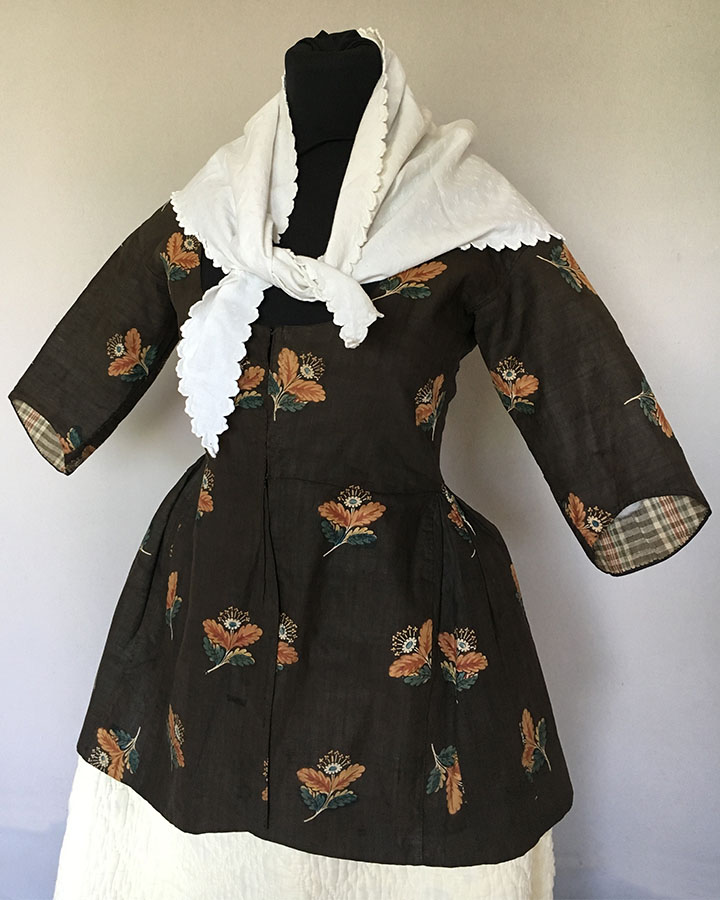 SOLD
Ramoneur Caraco
1780s
Fantastic French Ramaneour print used for this Dutch caraco. The fabric was exported to France in the late 18th century when Napoloeon's occupation of The Netherlands banned any other than French fabrics entering the country. The Dutch woven check lining probably woven at Harlingen. During the 18th century, manufacturers in Harlingen, a small but important port on the inner sea in Friesland, were copying the imported Indian cotton simple check fabrics, but in both linen/cotton mix and in linen. They were then exporting them to the Dutch East Indies for slave trade apparal. The town was the centre of production in the Netherlands for this fabric. We have had a few other garments with similar lining. A Chinese silk damask export skirt and a banyan.
Cataloguing
The deep scoop neck, front fastening with hooks and loop eyes, the sides with three gores caught up into the waist, the back with braid to the deep scoop neck, curving seams fromback of shoulders to waist, two wide pleats to the back skirt fanning out over the skirt, a green embroidered loop at the back waist (for tie now lost).
The slightly glzed hand block printed cotton in a Ramanoeur print ( with large 2 1/ in; 6.5 cm sprigs of stylised flowers with shooting stamens, large burnt orange, sea green leaves, some of the leaves with dots and lines. The caraco completely lined in a brown and white linear design with stripes of rust, green and white checks.
Underarm 34 in; 87 cm
Waist at the seam 29 in;72 cm
Shoulder to hem 27 in; 69 cm
Condition
Excellent. There are a few holes. Two to the left side near the side of the bust, each the size of two pinheads. The left back shoulder with seven small holes from pinhead to 7 x 3 cm. Ask for photos.
Comments
Ours here is the same shape as one in the Met, NY. Ref No. 2000.251
www.metmuseum.org/art/collection/search/81831?rpp=20&pg=1&ft=caraco&pos=3