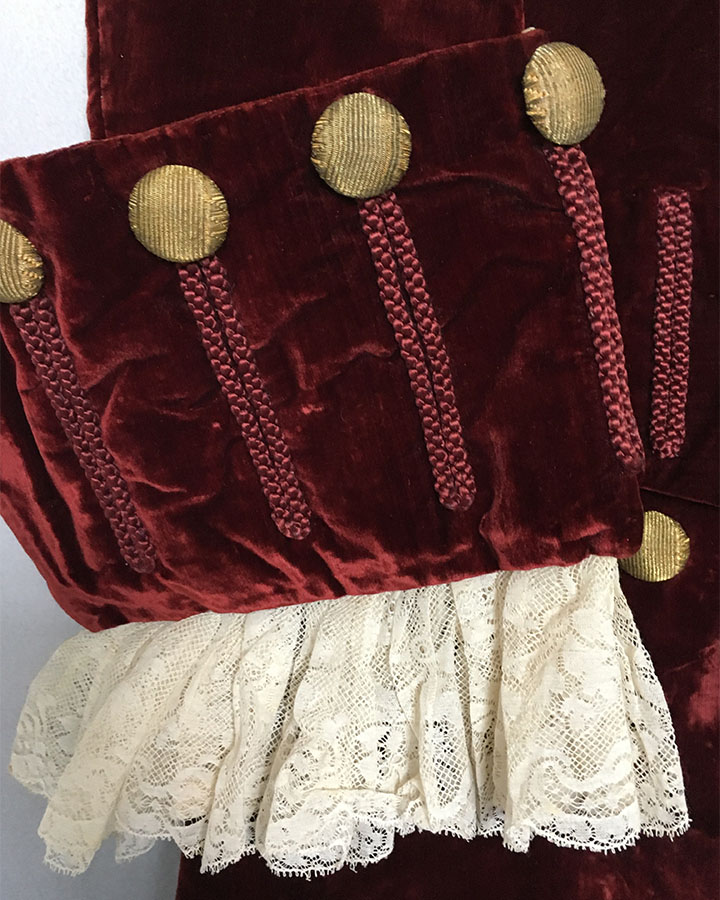 Velvet Suit
18th c style
Beautifully made by Davies & Son, Saville Row, London, with expensive fabrics.
The buttons are marked Davies & Son. Their website says: This tailor has the longest history of any independent tailor on Savile Row and we are proud of it. Our story began in 1803. In over two centuries of bespoke tailoring we have made garments for 4 Kings, 7 Crown Princes, 18 Knights of the Realm and 2 US presidents. Sir Robert Peel, The Duke of Windsor, Clark Gable, David Tennant, Bryan Ferry and Michael Jackson have all worn clothes made by us. Our Royal Warrant is held by Johns & Pegg by Appointment to HRH The Duke of Edinburgh as Military Tailors. It is well worth reading their website.
The buckles which fasten over a small piece of scalloped velvet is a nice feature I have not seen before.
This came from a Wiltshire house and was worn by a young man who attended many country house amateur dramatic parties in the 1920s. I would'nt be suprised if Cecil Beaton and his circle were also at those parties. More details on enquiry.
Cataloguing
Of crimson plush velvet, round neck with nine gold coloured wire buttons the front with faux corded buttonholes, a low waist seam with two large shaped pocket flaps, embellished with four vertical double cords, above three gold buttons, lifting to reveal slit pockets, the sleeves with very deep cuffs similar embellished, deep cream machine made lace frills, the back with central vent with four horizontal rows of double cord, flanked by concertina pleats and vents, lined in cream silk satin.
Chest 37 in; 94 cm. Length shoulder to hem 43 in; 1.10 m
The breeches with fly front opening, two velvet covered buttons on the waisband and five black buttons inscribed T Davis & Son, London, concealed below, four more buttons to the waistband, the back with inverted V piece of fabric tied with a silk ribbon, and a further two black butons, the legs with narrow cuffs four small velvet covered buttons, caught with a brass buckle over an extended scalloped half circles of velvet, all lined with ivory silk.
Waist 30 in; 77 cm. Length 35 in; 90 cm
Condition
The coat and breeches are in excellent condition. The coat's underarm seam and the back seam of the breeches have become unpicked, but could easily be resewn. We can do this.
Comments
www.daviesandson.com
Price: £550 | $700 | €590
Ref N°: 8276