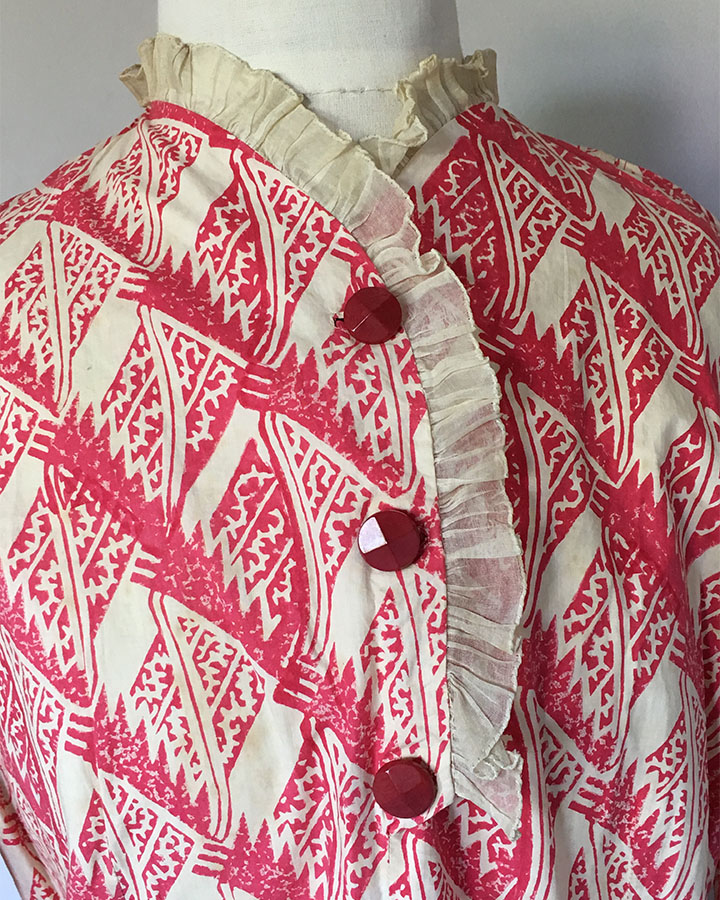 Phyllis Barron & Dorothy Larcher
late 1920s/early 30s.
This fabric is called Vernède. Robert Ernest Vernède (1875 – 9 April 1917) an English poet and writer, now remembered as a war poet. Phyllis Barron was 27 when Vernède died. Almost certainly they knew each other for her to name the fabric after him, or perhaps he was more than a friend. With the jagged lines the fabric could be considered angry. So little is know about her l
The dress is either dressmaker or home made, but very nicely sewn. Unfortunately I have no provenance.
Cataloguing
The dress in Vernède design, a rich pink on cream cotton, the gently curving neck and front opening with three slightly conical plastic? buttons, edged with frilled organza, dropped waist and gently gathered skirt,side fastening with six press studs, long tapering sleeves with two press stud closures and culminting in frilled organza.
Bust 36 in; 90 cm
Naural waist: Approximately 28 in; 70 cm.
Shoulder to hem: 45 in; 1.16 m
Condition
Very good. A couple of very very feint marks to the front, one on the left hand side, as you look at the dress, the other just below the front opening. The dress seems very fresh, so perhaps it was only worn once of twice and put away. It does not seem to me to have been washed.
Comments
Carruthers, Annette and Greensted, Mary 'Simplicity or Splendour', Cheltenham 1999, p.124
vads.ac.uk
See: my article on Barron & Larcher in ARTICLES on my website.
Price: on request